The Museum of Gaming History arrives in Las V
The Casino Chip & Gaming Token Collectors Club, Inc. (CCGTCC) is pleased to announce a collaborative venture with two of Nevada's finest institutions. The National Museum of Organized Crime & Law Enforcement better known as the Mob Museum and The El Cortez Hotel and Casino, both in downtown Las Vegas.

These historic collaborative ventures are coming to fruition as the annual convention of the CCGTCC draws near. This year's convention is scheduled for June 18-21, 2014, Wednesday through Saturday. The showroom floor is open to the public starting on Thursday, June 19th, and admission on Thursday is $15 and on Frida7, June 20th and Saturday, June 21st. Admission is free. The convention takes place at the South Point Hotel Casino & Spa, 9777 Las Vegas Blvd South, Las Vegas, Nevada 89183.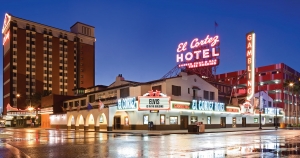 The El Cortez Hotel and Casino is located at 600 E. Fremont St in downtown Las Vegas will be hosting an exhibit of fantastic gaming memorabilia focusing on the life and times of Jackie Gaughan, the legendary casino operator who at one time held 12 different casino gaming licenses; lived to the age of 93; and played poker in his last casino, the El Cortez. The El Cortez, located at Fremont and 6th St., is now on the National Historic Landmark Register largely because the building has been preserved and unchanged for almost 75 years.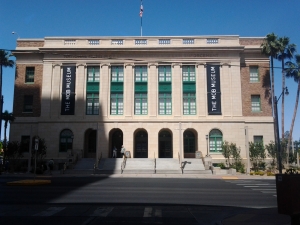 The Mob Museum is located at 300 Stewart St. The Mob Museum and MOGH exhibit will focus on the incredible history of illegal gambling houses through out the United States during the early and middle portions of the 20th century. The exhibit will feature all different forms of artifacts from various illegal casinos. One display will be in the "Evidence" room showcasing a number of Meyer Lansky's affiliations. Kentucky, Louisiana, Florida and New York clubs will be highlighted to show the breadth of his control. There will also be a small display in the Las Vegas room highlighting some early chips and photographs of the Flamingo. The Mob Museum is inside the historic, former federal courthouse and U.S. Post Office. This building is one of the few remaining historically significant buildings in Las Vegas, is included on both the Nevada and National Registers of Historic Places and is also LEED Silver certified.
The El Cortez and Mob Museum exhibits will be unveiled on Tuesday June 17.
More at: http://themogh.org/mogh_home.php
More at: http://www.ccgtcc.com/