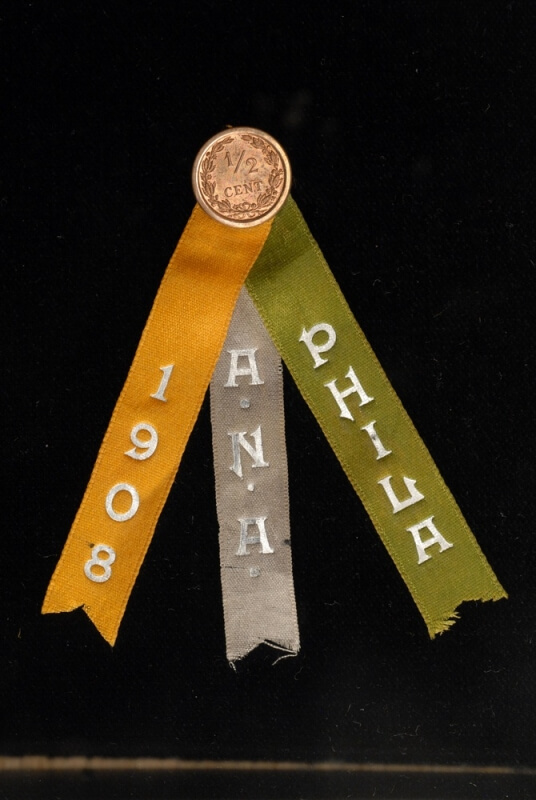 Throwback Thursday: The first ANA convention badge
The American Numismatic Association was established in 1891, and in that same year the first ANA convention took place in Chicago. However, it wasn't until 17 years and 8 conventions later that the first convention badge was produced.
The first badge was issued at the 1908 convention in Philadelphia. The ribbon was gold, silver, green and hot stamped in silver print with a 1903 Netherlands half-cent attached to a gold-plated stick pin. While the manufacturer is unknown, it is recorded that there were about 50 ribbons made. This convention badge is extremely rare.
At the time, Farren Zerbe was ANA President and his wife was later thanked in The Numismatist by the Resolutions Committee for, "her thoughtful remembrance in providing the members with the attractive souvenir badge for this Convention."



In the October-November 1908 issue of
The Numismatist
it was written, "Like all coin collectors, each man has his characteristic points, everyone was a good fellow, and it goes without saying that one and all went back to their homes, for it is a matter of record that coin collectors have homes, feeling better for mixing with their fellows, and feeling sorry for those that could not come, and the little tri-color badge of gold, silver and green will carry its message of good-fellowship and sociability far and wide, and it will be a reminder as time goes by of that very good time spent at the Philadelphia Convention of 1908."