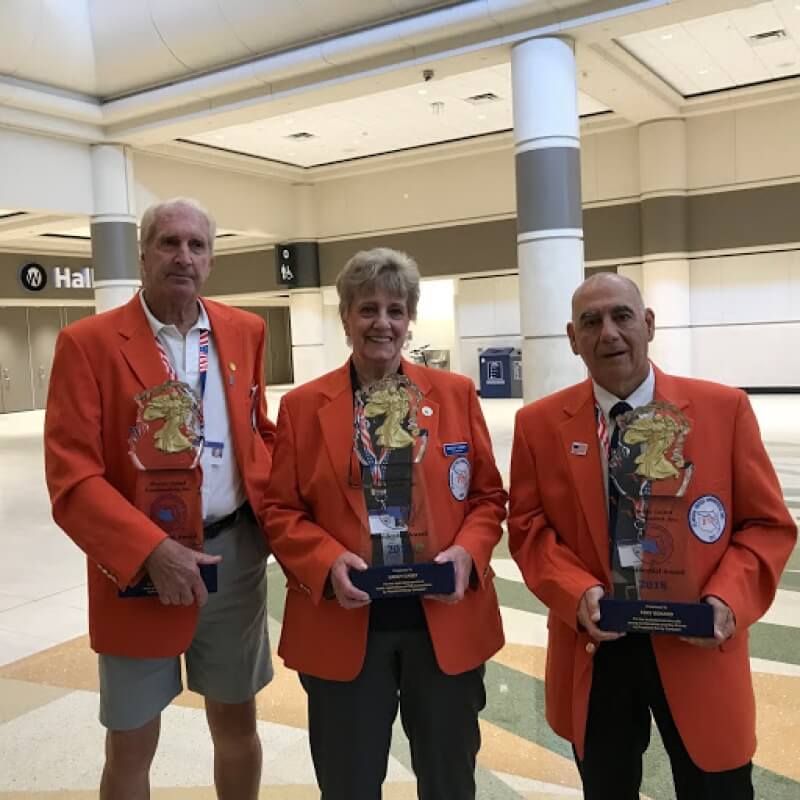 Thank you FUN for ANA table at your 12th Annual Summer FUN Convention July 12 - 14, 2018
On July 12 - 14 2018, the Florida United Numismatists FUN – www.funtopics.com held their 12th Annual Summer FUN Convention at the Orange County Convention Center in Orlando, FL. The location is great, and many hotels are within walking distance or a short distance away. Parking is only $10, and FUN had a bus taking the visitors from the back to the front of the convention center every 20 minutes. Many nice restaurants are also nearby. Being the vacation and theme park capital of the world, Orlando has many things to do for family members who don't collect coins.
After attending the opening ceremonies with more than 150 people waiting to get in, we could see it was going to be a busy show. Attending most of the summer FUN conventions, we think that this was possibly the best Summer FUN that has been held. Total registered public attendance was 2,600. Helping with attendance figures were the four "coin club" buses that were paid for by FUN. The breakdown for this was, Greater Jacksonville with 34, Ocala with 45, Palm Beach with 45, and West Hernando with 22. The show had 182 dealer booths, and 65 Early Bird badges were sold. Public attendance (not counting any dealers with tables, early birds or staff) was 2600 for the show. We want to thank Cindy for the figures cited.
We want to sincerely thank Convention Coordinator Cindy Wibker, President Randy Campbell, the FUN Officers and the Directors for once again providing the American Numismatic Association ANA – www.money.org with a free table. All of the orange-jacketed Directors, along with supporting staff members do a masterful job of handling all the responsibilities for this important convention. At the opening ceremonies three FUN Directors were awarded President's Medals, Ed Abbott, Nancy Casey and Tony Bonaro. Congratulations to them for years of tireless and dedicated work for Florida United Numismatists. See attached photo Left to Right of Ed, Nancy and Tony.
We were extremely busy at the ANA table with many people stopping by for information about the Association, coin collecting and the numismatic hobby in general. With assistance by Bob Mellor, who is a Florida ANA Representative, we were able to sign up or renew 30 + members for the Association. We want to once again thank Dealer John Markis from Trusted Traditions, Inc., located at Lauderdale by the Sea, FL. for the $25 donation for the shipment of the coin show kit. Thanks also to Dealer James Warmus, from Palm City, FL, for a great donation of scarce books to the ANA, along with a box of counterfeit dollars. These were accepted by ANA staff member Sam Gelberd, who assisted FUN with the YN "Coins and Kids" Table.
The convention itself had many highlights starting with a well-done program. A highly successful Heritage Auction, located in Dallas, TX., (www.ha.com); United States Mint participation; excellent educational seminars and exhibits; a Coins & Kids table; YN program along with a Scout Clinic; a daily Treasure Trivia scavenger hunt (which ANA participated in) and 127 YNs participating; excellent security by Positive Protection Inc.; Security room available for duration of the show; morning snacks and refreshments for dealers and workers; all the major grading services; Piedmont Gold Panners; Page services; a well-run message center; Wizard Coin (and book) supplies; excellent food service vendors; a table full of Krause Publications (www.krausebooks.com) papers and new yearly calendar; cloth bags provided at registration along with other give-a-ways; coin club tables and meetings. Of great importance are the services of David Lisot who covered the educational programs along with other events during the convention. The videos would be available at his site, www.cointelevision.com.
It was an excellent and very busy coin convention - handled by a great FUN organization. Once again, thank you FUN for your great hospitality. We look forward to seeing you at one of the following FUN Conventions. The 64 th Annual FUN Convention: January 10 - 13, 2019 - Orange County Convention Center, West Building WA1 & WA2, Orlando, Florida and or the 13th Annual Summer FUN Convention: July 11-13, 2019 - OCCC West Building, Hall WE1, Orlando, Florida. Yours in Numismatics, John and Nancy Wilson, ANA National Volunteers