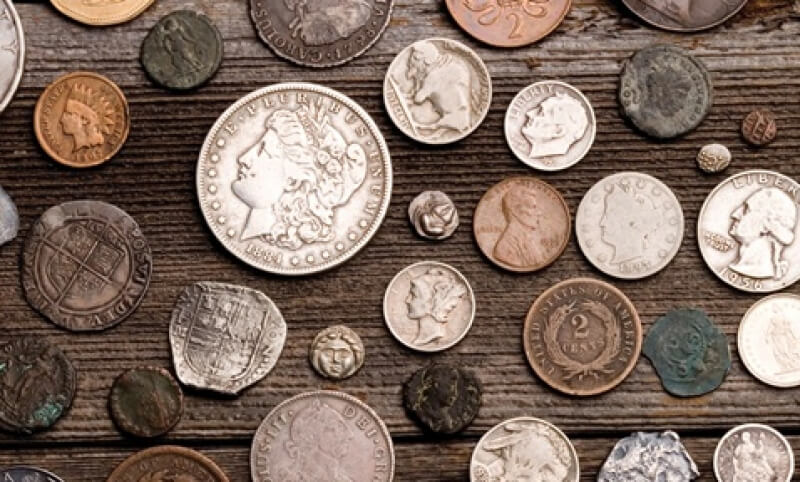 The Ocala Coin Club's 33rd Annual Coin Show
Ocala Coin Club President Lawrence McManus
General and Bourse Chairman Richard Selvar
Ocala Coin Club Members
Thank you Ocala Coin Club for ANA table at your 33rd Annual Coin Show.
The Ocala Coin Club (OCC) http://www.ocalacoinclub.com/ held their 33rd Annual Coin Show on October 5 – 7, 2016 at the Motel 6 Conference Center in Ocala, FL. The conference center, located off I-75, is well-lit, carpeted and has free parking. Fifty-five tables were sold and the dealers we talked to said they had a pretty good shows. Eight hundred registered for the event. The show was busy on Friday and Saturday with very crowded aisles into the early afternoon. Sunday was very slow with only a few people registering. The club sent out over 500 post cards advertising the event, which always helps with attendance. Security was excellent for the event. The show featured free admission, wooden nickels, hourly silver dollar prizes, an all gold raffle, free coins for kids and Archie Taylor from the Original Hobo Nickel Society had a "Hobo Carving Table" with free coins for kids and visitors.
We want to thank the Ocala Coin Club President Lawrence McManus, Show Chairman Richard Selvar and all the members of the club for giving the American Numismatic Association (ANA) https://www.money.org/ a free table at your show. The club is a 50+ year member of the American Numismatic Association. Thirty Ocala Coin Club members assisted at the show with setting up and breaking down the hall, selling raffle tickets, registering visitors and handing out door prize tickets. With our table right by the front door, we were able to sign up 21 new or renewing members for the Association. We also gave out free items and the Associations monthly magazine, The Numismatist, to visitors who stopped by our table. We especially want to thank Dealer Harry Eck from Crystal River, FL for donating $25 to the ANA for the shipment of the coin show kit. We look forward to next year's Ocala Coin Club show which is set for this same location on February 3, 4 and 5, 2017.

Thanks again, John and Nancy Wilson ANA National Volunteers CC Mint Mark Editor Eric Holcomb, Club Representative Director Tiffanie Bueschel, Member Service Director Cary Hardy, The Numismatist Editor Barbara Gregory, National Coordinator Richard Jozefiak, FL Coin Club Representative Tony Swicer, ANA Executive Director Kim Kiick and ANA Board.
John and Nancy Wilson