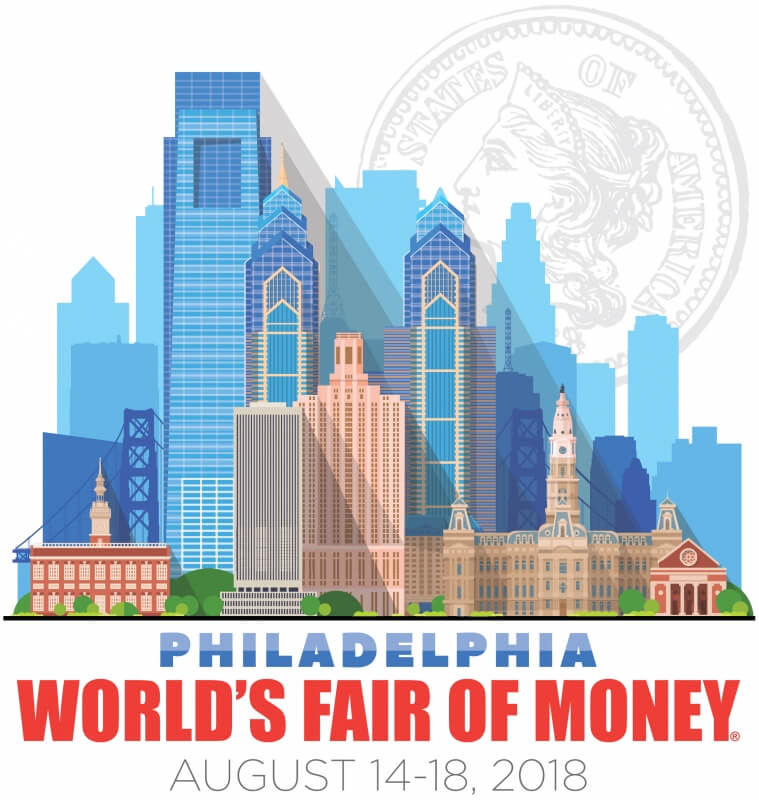 Thank you World's Fair of Money Philadelphia August 14 – 18, 2018
The American Numismatic Association World's Fair of Money Convention (WFOM) was held for the eighth time in the City of Brotherly Love, Philadelphia, PA. on August 14 – 18, 2018 in the Pennsylvania Convention Center. This had to be one of the busiest ANA conventions we have ever attended in many years. Even with the admission charge to enter the show, traffic was almost continuous since the doors opened until they closed on Saturday. Unlike past shows, many of the dealers stayed close to the end of the convention. If we started to write about all of the highlights we would have to get some publisher to write the book, but we will only cover some of them.

First and foremost, thanks to the ANA for arranging this very successful show for its members, dealers and visitors – which there were many. From President Gary Adkins, his Board, Executive Direct Kim Kiick her Staff especially Convention Director Jennifer Ackerman, her crew, Host Chair Edward Hammond, his committee and workforce, the Host Club the Pennsylvania Association of Numismatists, the National Volunteers and everyone else connected with this show deserve a HUGE thank you for your work and dedication in making this such a successful convention.
Whenever a convention has a 96-page show guide, you know that a lot has to be going on. A WFOM is probably the only coin convention you will ever attend where you have many conflicts; and cannot do everything you might want to do. Such was the case with us, and we missed meetings and other "Show events" that we wanted to attend. This convention probably covered every word in the dictionary from A to Z, in everything that was being held in conjunction with the show. Registration ran smoothly and though the lines were long at times, the ANA Staff worked hard to get them into the show as quickly as possible. Many people forget that as an ANA member you get free admission to the show. You can also enter the show a half hour before the general public. Working the ANA Future table close to the entrance several people joined the Association just for that reason.
As for the highlights here are a few: Excellent convention center with many nearby hotels, outstanding advertising and media coverage, exceptional public attendance, large and diversified bourse, top notch security, HUGE and successful auctions by StacksBowers and Heritage Auctions, generous title sponsors and patrons - which help pay for the convention, all the major grading services including NGC & PMG which are the official ANA grading service, special elongates made for the convention including a booth which rolled out your coins, literature dealers including the ANA official service Whitman Publishing Company, US Mint (displaying three of the eleven $20 1933 US gold pieces) and Bureau of Engraving & Printing (including Spider Press) participation along with several world mints, world class ANA Museum Showcase with exhibited 1913 Liberty Head nickel, a Nova Constellatio Quint and other rarities, many outstanding competitive exhibits, Scout seminars, a Kids Zone with a treasure hunt, coin publication booths, ANA Coin Club tables including their educational programs & dinners and other events, interesting Money Talks presentations, a very nice ANA awards banquet & silent auction, along with many things to do for the family in downtown Philadelphia. Congratulations to ANA Farran Zerbe Memorial Award winner Cindy Wibker and Lifetime Achievement Award winner Mark Lighterman. Prue Fitts was the recipient of the Elvira Clain-Stefanelli Memorial Award for Achievement in Numismatics. Visit www.money.org for other award winners at this convention.
Thanks ANA Board, along with the Association Staff, the host club and their committee, along with the ANA volunteers for hosting or helping to make this convention such a successful show. Just about every dealer we spoke to said they had a very successful show. We look forward to the next two ANA Conventions, National Money Show March 28-30, 2019 in Pittsburgh, PA. and the World's Fair of Money on August 13-17, 2019 in Chicago (Rosemont), IL. Yours in Numismatics, John and Nancy Wilson, ANA National Volunteers