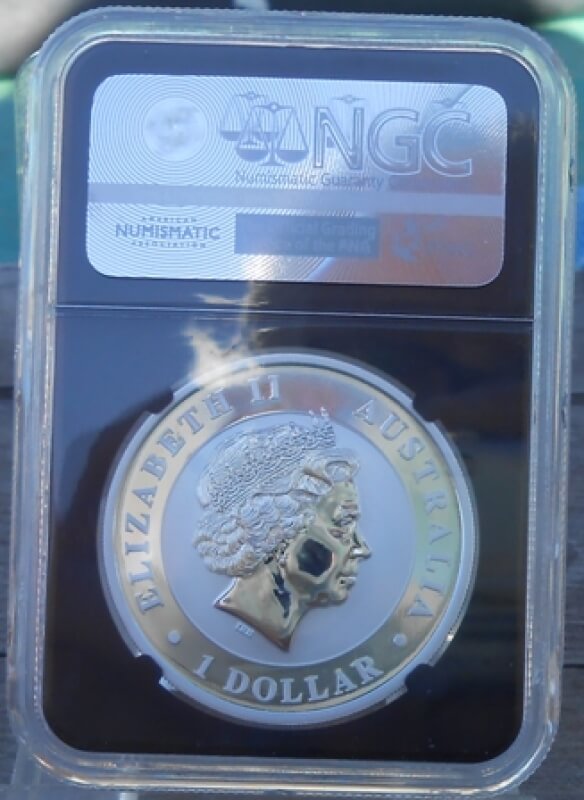 Today I have a coin I received as a gift and a test. Below is my example of a 2017 Australian Wedged-Tailed Eagle. I very nice birthday gift. It was a test to see how a MS 70 NGC coin looked in their black holder. I think the silver coin shows up nicely. Personal reference. Besides everything else it has going for it, the NGC slab is hand signed by John Mercanti, our former 12th Chief engraver at the US Mint. Among other things he designed the reverse of the American Silver and Platinum Eagle. The slab also has a special Australian Label, if you are into that, it also has a nice First Day of Issue designation.
The coin itself is the third in the Wedged-Tailed Eagle program. I guess I should mention Mercanti designed all of them. The reverse of the coin shows the proud eagle at rest, perched on a branch. Mercanti has parts of the eagle and branch outside the normal boundaries of a coins design. The Wedged Tailed Eagle is a very interesting bird of prey. It is Australia's largest eagle. I recommend you check it out. The reverse also features the inscriptions "AUSTRALIAN WEDGED-TAILED EAGLE," "2017 1 OZ 999 SILVER," and "P" mintmark from the Perth Mint.
The obverse of the coin features Ian Rank-Broadley's design of Her Majesty Queen Elizabeth II. It is inscribed with "QUEEN ELIZABETH II," "AUSTRALIA" and "1 DOLLAR".
I have personally always enjoyed this coin. It is Australians version of our Silver American Eagle. The major difference being, that Mercanti's design is changed each year. The coins specs are as follows" weight: 31.1 g and a 40.6 mm diameter. I kind of lost interest in this coin but my lovely wife's gift has rekindled my interest in it. Enjoy the photos below. I hope you learned something from my blog. Please feel free to comment.
SOURCES: Perth Mint
Modern Coin Mart