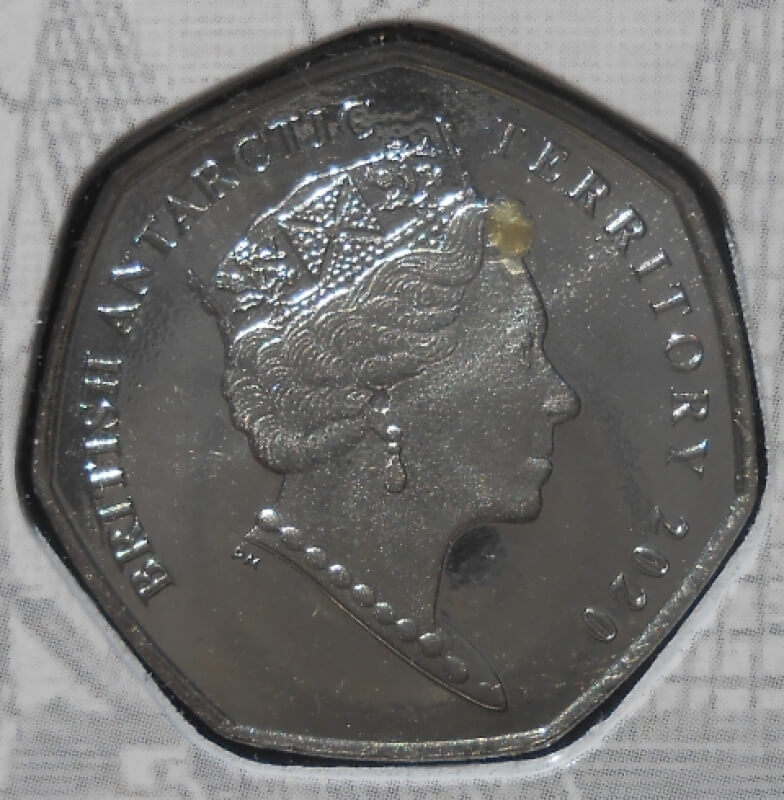 Now, this is going to be an unusual blog, for me at least. I bought this coin and was all set to blog about it like normal. After getting the photos ready I noticed everything I was going to tell you about the coin is all on the photos. Crazy. I decided to do it this way and talk more about the place the coin is from. Here goes.
  The coin is a new 2020 50 pence commemorative. It is struck from the Pobjoy MInt in England. All the specs can be found on the photos below. It is backed by the British Antarctic Territory. Sorry the photos aren't that great. I took them through the plastic in the card. You may noticed the USPS did their best to fold up the card.
   The British Antarctic Territory or BAT, is a UK administered in London by their Polar Regions Department of the Foreign and Commonwealth Office. The BAT is the oldest claim on any of the Antarctic continent. Even so, there is no formal British Government presence in Antarctica.
   What the BAT does do is run the British Antarctic Survey which in turn operates three science stations  and a Royal Research Ship. It also runs the United Kingdom's Antarctic Heritage Trust. A historical trust based at Port Lockroy. Lastly they have the Royal Navy's ice patrol ship HMS Protector.
  Their stated purpose is "To support the security and good governance of the territory". Simply but, they are a scientific organization, as all Antarctic bases are. I am personally fascinated by Antarctica and have also written a blog on it back on 28 August 2018. Give it a look. In closing I would like to say that I have seen some nice coins offered at The Pobjoy Mint and never ordered any. I thought that since they are a UK mint the shipping would be too high. Well, it seems they have an office in the USA. Cool.
   I hope you enjoyed this off beat blog. Please feel free to comment. Thanks!
SOURCES:
https://britishantarcticterritory.org.uk/
Pobjoy MInt LTD.
https://www.bas.ac.uk/about/antarctica/britain-in-antarctica/