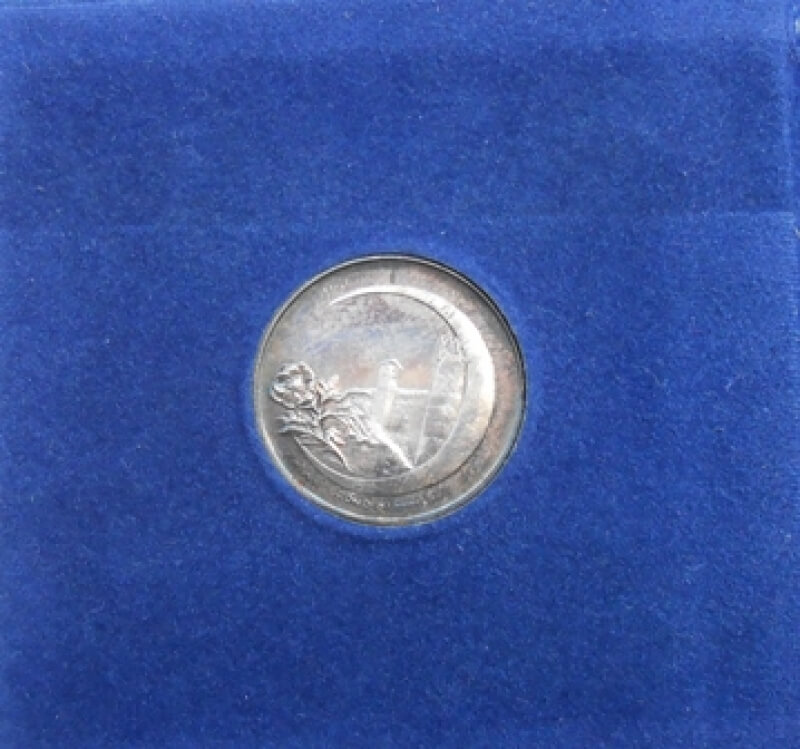 So, it has been brought to my attention that I have very few coins/medals from Italy, my historic homeland. Well here is my newest acquisition from that beautiful country. As you can see below, I hope, it's a tough one to photograph, is a semi rare silver medal. It depicts the famous love story of Paolo and Francesca. In case you are not familiar with this story I will give you the short story. I recommend you look it up yourself. Francesca da Rimini, 1255-1285, was a historical contemporary of Dante Alighieri, famous for writing Dante's Inferno the Grand Comedy. He put her story in the famous poem. She was married to Giovanni Malatesta, a man from a wealthy family yet a cripple. The marriage was political to help solidify the peace. She later fell in love with her husbands younger healthy brother, Paolo. Although Paolo was also married, they had a 10 year affair. Giovanni ultimately caught them making love in Francesca's bedroom sometime between 1283 and 1286, killing them both. Dante put both of the in his second circle of hell. That reserved for the lustful. Here the couple is trapped in an eternal whirlwind. Doomed to be forever swept through the air just as they allowed themselves to be swept away by their passions.
Now for the coin itself. It is a coin with a weight of 9.42 g of silver and a diameter of 26.04 mm. It comes in the original box with a certificate of authenticity. It is coin 986/1000 as you can see stamped on the coin. The coin was designed by the famous designer A. Rondini. The reverse depicts the Castle Gradara, where this tragedy took place. It also shows a moon and roses. The name of the medal is Chiaro di Luna, which roughly translates "Light from the Moon or Moonlight." The obverse shows the embacing couple inside the castle walls with the quarter moon in the distant sky and Giovanni sneaking around the right side of the castles draped columns.
I hope you appreciate this coin and the Divine Comedy written about it. The story has been very much shortened. If interested the reader should research it themselves. Please feel free to comment. I'm hopeful the photos come through.
SOURCED:
https://cynthiaripleymiller.wordpress.com/2013/02/14/dantes-paolo-and-francesca-loves-passionate-storm/