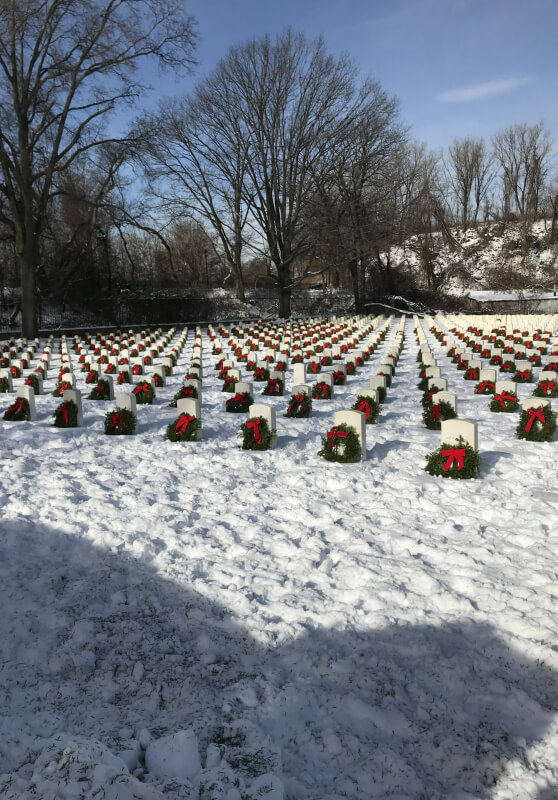 Hi everyone. This is a blog about those  who lost there lives in all our wars and how some are remembered. My wife Kathy belongs to a group called The Vikings. Twice a year they go to the local Military Cemetery and remember . During the year they raise money to buy the wreaths. They sell chances fifty fifty.  Enough to make sure every soldier gets one. Every man and woman. 
               The ones on top of the hill are from World War  1. . Down the hill World War  11  then Korea and Vietnam..  They all get one and the weather has never stopped them all these years. There are other groups  in other areas were they do the same thing. They say a prayer before they start and when there done they stop and just say Thanks!! They leave they don't  know.any of them they don't have to. Then a few moments when they look and see what they have done. Some relatives show up but very few. 

         No one seems to show up from World War 1 . Yes there families either can't make it or they know that someone will. The Vikings. . I never asked my wife why that name but we all know the Vikings were fierce warriors like those laying there. It's peaceful you here a bird fly over the do there work. My wife was laying a wreath and saw the name Aloysius LLyod  Byrne. No relationship. She stoped to say hello and thanks. Some members say something at every grave.
       They work hard all year. But this is not work this is an act of love. A simple act but I can tell you those soldiers really appreciate it. You can just feel it. together there Christmas gift. From a bunch of kind hearted people. People who never knew them.. We're ever you live think of starting a group. . I know the families that can't make it would greatly appreciate it. The winner of the fifth fifty always gives there winnings back to the group

         The coin says it all. One soldier helping the other. The other pictures show regular people helping them . . It doesn't take long but the memories do.  They last. They feel they did the right thing. And they did. A big thank you to the Viking group and groups all over the country.  For giving a gift to a soldier they never knew.  Be safe be well.
             Kindly enlarge pictures.