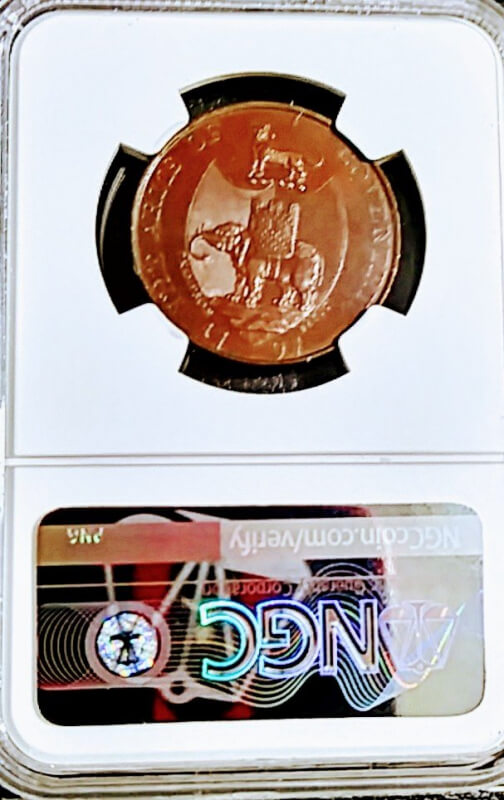 Well my friends. I decided to write another blog  on these beautiful arts in copper. They tell many story's . Story's about how it was to live in 18 century England. We're the Monarchy said no silver no gold.  How were they going to survive.  Britain was involved in Many wars and even a civil war. They had  no money to speak of.
          Sure the King and Queen had there gold and silver. They even allowed some coinage to be made. This was the time of George The 111. Yes the battle for our Independence had much to do with this. There is one particular token it looks like a church. Built around 1340 . It's name was St. Johns. I wrote a journal about it at N.G.C. Shortly after I get a message from a fellow collector.  Not only did he live in Coventry he went to that same building during high school. Sure it was probably refurbished but the outside is still the same . That's only 678 years. Coventry was bombed during WW 11. Many of the gates and buildings survied. 

             So to get back to the tokens Matthew Boulton had built the SoHo mint. Now Britain was way ahead of other country's as far as coins were made. The Soho Mint operated on steam presses. They made 80 a hour. But it probably took weeks to make the dies. They had great engravers. That's why there are so many of these tokens. On the edge it would say where you could redeem these tokens. But collectors also noticed the workmanship and  collectors noticed this and collected them . That's why so many are in MS after 224 years and longer. I found one of the first made in 1761 by a man called.Toke. He owned a farm and made thess. It was located in Kent.

             Depending on what the edge writing said ment how much they are worth today. That's why you will see a reference number like 214 a, b ,c. Let's say b they only made so many  that meant it was worth more. There is another token below that has George Fredrick Handel. Peter Kempson made a set of Coventry tokens with just him on the reverse. He was loved in Britain  but born in Germany.. Those go for a very high price today because they are very rare. . 

             I know I'm all over on these. But you get the idea. They were used for money. The were made in a half penny and one penny.  They were collected. They helped a country that was close to bankruptcy. Me I was lucky to find these. Look at one with a loop and count the bricks even the cobble stones in the street. The best part is there are still those in Red and Brown. One I have is proof like. To get a coin made today to be proof like takes allot of work . I believe this one was first of the die. They saved Britain I believe. . The prices of these have gone up allot. I have to stand back and say how bad do I want this..

          There sold.raw at auctions. The quality ones.. There are still many. I could go on and on about these. Conder collectors do not slab there tokens. But the ones that are so beautiful  should be. I believe in protecting them.  I hope you enjoyed this. They do have classes on these at the ANA.  They were made into the twentieth century. I will write a blog on those . Take care be safe and be well.

                Please enlarge PICTURES!!!