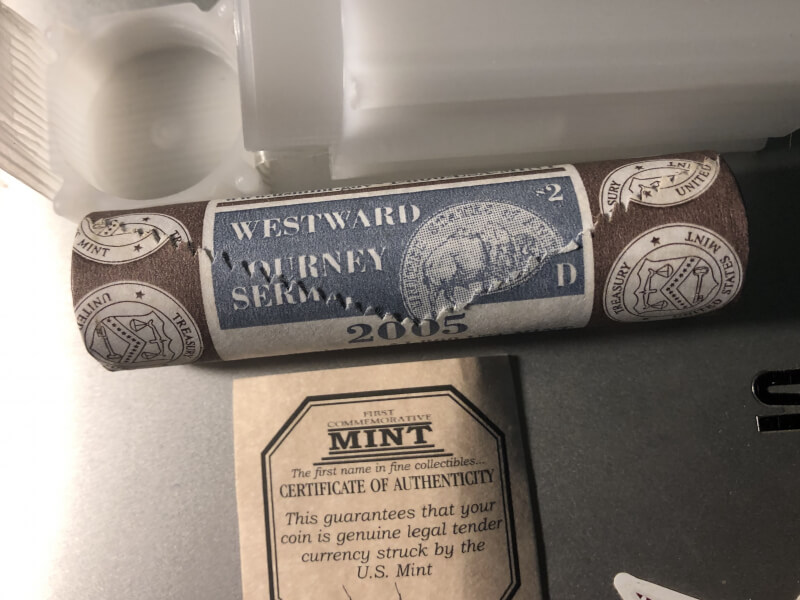 Hi guys & gals!
     You know what they say, the mind is the first to go! Yesterday when I opened my roll of nickels that I thought I had bought back in the 80's, it turned out that I was incorrect. I know it had been a long time, but I guess it depends on your definition of long. When I cracked open the roll, it was a roll of 2005 Westward Journey Buffalo nickels from the Denver mint. This was strange due to the fact that I had just bought the complete set about a week ago. I didn't have the heart to open the roll, so I just took pictures of both ends. This could possibly end up being a donation to the YNs.
     I would like to get some opinions from folks in reference to the First Commemorative Mint though. Is their products considered "junk money" even though it comes from the Denver mint? When Jackson passed away and I bought his tribute set, which was a 5 Decade set of Kennedy Halves from the San Francisco mint, I bought them from Govmint.com but they came packaged from FCM. I have bought several items from them in the past, but I guess I just don't know what's Junk Money and what's not! I would appreciate anyone's thoughts on this subject.
     Anyway, the mintage of these nickels is 487,680,000. They look nice and are rolled up just like they came from the mint. There may even be some proofs in there, who knows. I put them back in the roll and sealed it back up just like I received it. Enjoy the pictures and I apologize for the huge error in the lapse in time. Until next time, stay safe, HEALTHY, and coronavirus free!