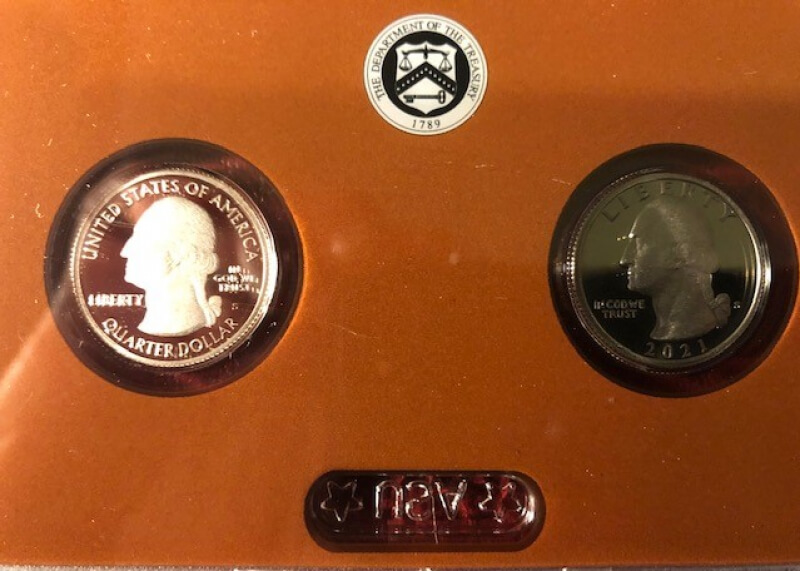 Good morning folks!
á á áI noticed that the month of May was skipped as far as blogging was concerned on my part. I'm not sure if anyone else has noticed, but as I get older, I become more "complacent"! You know what I'm talking about. If you don't weed the garden, the grass and weeds take it over. I received my 2021 Silver and the 2021 Proof set along with my yearly Kennedy Half dollar rolls a couple of weeks ago. Yesterday I got around to posting them on my collection page. These items weren't the only ones that I've received during the last month, which is why I decided to write about it today. Currently I go through a several step process for each item I acquire, and I've been thinking about ways to maybe cut down on the logistical/accountability steps that I take for each item in my collection. I know that Bama uses software and I've been considering that. When I receive an item, I usually take the invoice and put it on a clipboard, inspect the item, and place it in my closet to be put away at a later date. After that is done, I make an entry in my master log so my daughter/family members know exactly where it's located in the closet. Every 3 months I try to log the invoices into an inventory book to track expenditures (currently I haven't accomplished this task for 6 months now). I'm sure this is why my jewelers tray gets so crowded occasionally.
á á áIt's starting to become summer here in central New York, which means nice weather, and outside chores that also cut down my numismatic activities. I am looking forward to a couple of things that are going to occur over the summer. The 7th edition of the Mega Red book comes out this month, which I've pre-ordered with a 10% discount through the ANA and the Type 2 ASE (American Silver Eagle) is due to be released in July. Back on 20 Feb. 2021, I posted a blog about this coin series and ever since, it's been "creeping" more and more into my coin collection. I'm not sure if this is a good sign or not ;-) ! The reason that I mention this is because in the last edition of the Mega Red book, there is a special section devoted to the half dollar coin. This next edition there is going to be a special section on the dollar coin. I enjoy this aspect of numismatics because I like to read and these Mega Red books have an enormous amount of information contained in them.
á á áThat's about it for this months post. As always, stay safe, HEALTHY, and coronavirus free ! Hopefully it won't be over a month until the next time you hear from me, which reminds me, I haven't seen any posts from Stumpy or Bama lately! Enjoy the pictures and I'll see everyone again soon!
Charlie aka slybluenote