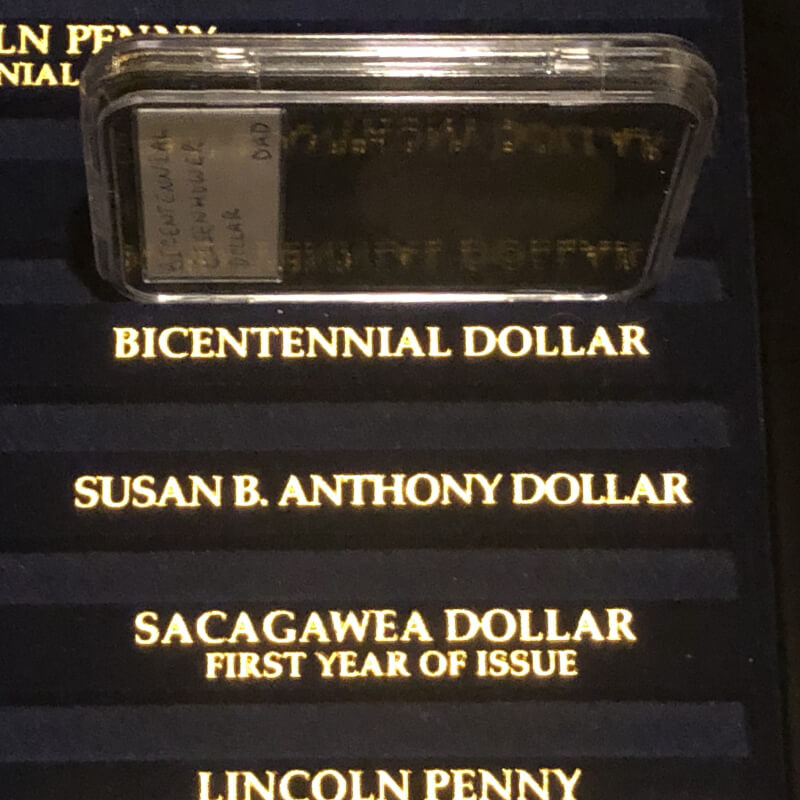 Top O' the morning folks !
    This past week I've added a Eisenhower Dollar collection to the "Collections" part of this website. This morning I've added one more piece to it that I would like to preview. The obverse of this coin was designed by none other than Mr. Frank Gasparro who also designed the Kennedy Half dollar. The reverse was designed by Mr. David R. Williams. According to the Eisenhower dollar guide, "A national contest was held to solicit Bicentennial coinage designs from the public. There were 884 entries received with bicentennial designs for the dollar, half dollar, and quarter. The winning entry for the Eisenhower Dollar was submitted by Dennis R. Williams, who at the time of selection was a 22 year old student majoring in sculpture. He was awarded $5,000 for his design featuring the Liberty Bell extending over the moon." There have been 9 five star generals in this country and President Eisenhower was one of them. The rank was retired in 1981. The coin I'm previewing today is a Philadelphia mint product. As you can discern from the reverse it's a type 1 variety with the block letters. The mintage for this coin is 4,019,000 and it weighs in at 22.68 grams. It's diameter is 38.1 mm.
     As I've commented in previous blogs, my step-dad was a "hoarder" of bicentennial coins of all denominations. He loved the designs and he had served proudly in WW II in a tank battalion at Bastogne, Belgium, which I visited while stationed at Mons, Belgium. He was a man of moral character and fortitude with military bearing. He also carried the scars of war. It was in these respects that he was different from my "real" dad. I didn't meet my real dad until 1988, when the Marine barracks got bombed in Beirut, Lebanon. Although I was in the Army, I got the message to get my "rags in a bag" and that I may be going on a short vacation. Since my mom and my real dad were never married, I had only knew my step-dad up until 1988. My step-dad and mom married in Feb. 1966. I decided that I didn't want to go to my grave not knowing about my real dad, so I looked him up. A few years later he and I were on our way to Knoxville, Tn. for my grandmother's birthday and we stopped at my mom's and step-dad's house to visit. That's where this picture was taken. My real dad didn't want to go in the house so my mom and step-dad came out. It was a very amicable meeting. Every time I see this coin, I think back to the day this picture was taken which brings back fond memories.
     The  Eisenhower dollar guide states that "The 1976 Eisenhower dollar featured a new reverse design issued to celebrate the bicentennial of the American Revolution. The redesign of the denomination was authorized by Congress, along with the requirement that coins issued between July 4, 1975 and January 1, 1977 should carry the date "1776-1976" rather than the date of mintage." As I mentioned earlier, there are several different varieties that I may look into obtaining, although I do own some of them so you should go check out my collection so far.
     In conclusion, I would like EVERYONE to do their civic duty and VOTE by election day! At the same time I want everyone to stay safe, HEALTHY, and coronavirus free until we talk again! Also, thanks for taking the time to read my ramblings about President Eisenhower! Btw, I graded this coin as a VF-30 with the help of "Mega Red 6th Edition" and "The Official American Numismatic Association Grading Standards for United States Coins".
Charlie aka slybluenote
P.S.  I've added 2 more pics of where I store this coin.