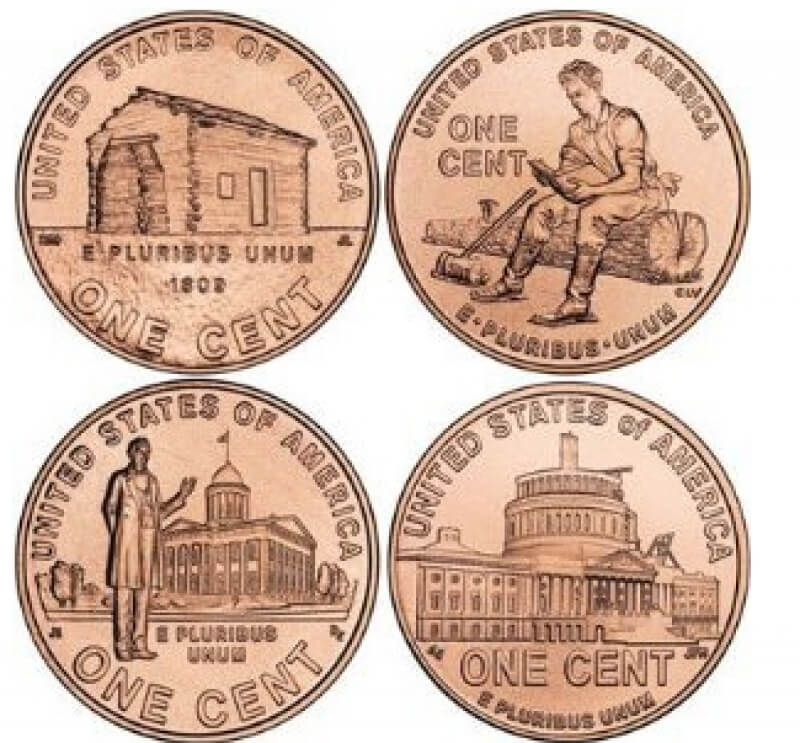 There are a quite a few commemorative coins in circulation.  These coins are the ones that a lot of people grab.  Some times the commemorative coins are released over the years in large sets like the State Quarters set, from 1999 to 2009.  Also the America beautiful quarters set.  It started 2010 and will continue until 2021.  There are a few of these less known upon sets that are a big part of U.S. history.
Have you ever tried collecting a set of pennies.  If you have, you will probably notice that you are missing the 2009 penny.  The 2009 penny is harder to get due to that it is the Abraham Lincoln's bicentennial.  If he was still alive in 2009 he would be two-hundred years old.  
To honor Abraham Lincoln's bicentennial the reverse side of the penny was redesigned.  There are four different images on the reverse of a 2009 penny.  These changes were required by the $1 presidential coin act of 2005.  It required a the four reverses talked about in this article.
Birth and Early Childhood - this design features a log cabin.  This design was released on Abraham Lincoln's birthday (February twelfth) along with a ceremony at his birth place in Kentucky.  It was designed by Richard Masters and Sculpted by Jim Licaretz.
Childhood and Growing up - This design features a young Lincoln while he is taking a break from splitting logs in Indiana  This design was released on May fourteenth 2009.  It was designed and sculpted by Charles Vickers 
Professional Life - This design shows Lincoln as a Lawyer as he is standing in fort of the Capitol of Illinois in Springfield.  This penny was released to the public on August thirteenth 2009.  This penny was designed by Joel Iskowitz and sculpted by Don Ever heart
Presidency of United States - This design features the half completed capitol dome in Washington D.C.  It was released to the public on November twelfth 2009.  It was designed by Susan Gamble and Sculpted by Joseph Menna.
The Presidential coin act also had the mint make a special collector set in the same alloy(95% copper alloy.  The current penny is made of an alloy of 97.5% zinc and 2.5% copper) as the first Lincoln cent in 1909. The set (called Coin and Chronicles) also had a lincoln silver dollar that contained the last 43 words from Lincoln's famous 'Gettysburg Address'  The coin contained 90% silver and 10% copper.