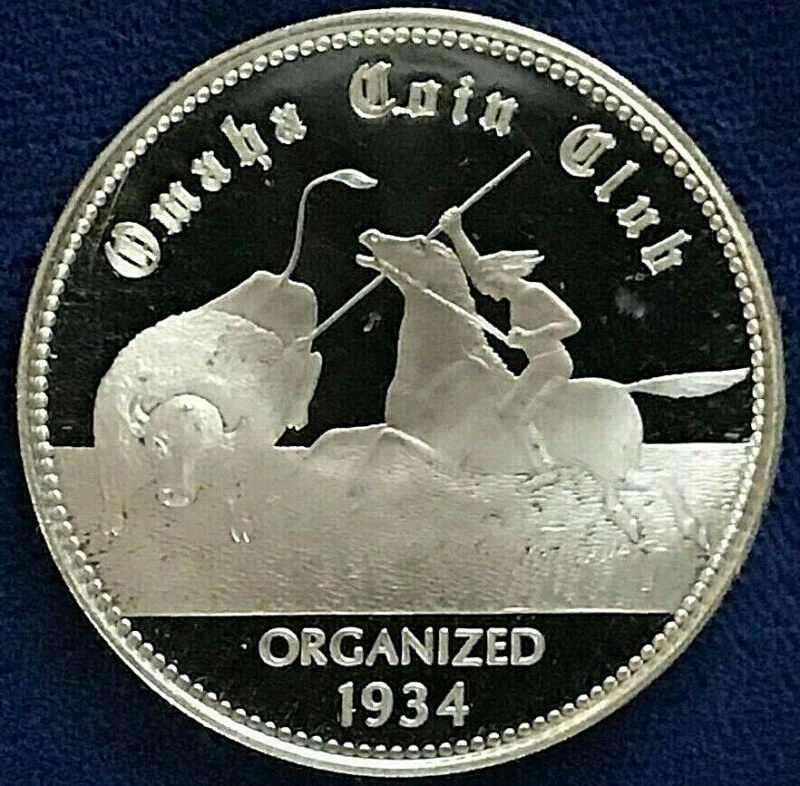 Coin Thoughts #116 by "SUN"
THE BACK BONE OF THE HOBBY
It has been a while since I posted a blog. I have  been some what lazy of writing my Coin Thoughts.  A thought came to me that local coin clubs are in my opinion, the back bone of the hobby. So, I thought I would high light the Omaha Coin Club which I am a life member.

The Omaha Coin Club was founded May 6, 1934. On July 1, 1934 the club became a regular corporate member of the American Numismatic Association and was admitted to life membership September 1, 1935 and holds Life Club Member #5 of the ANA.

The club's logo is an Indian preparing to spear a buffalo.  This logo was originally designed by T.R. Kimball of Omaha for the Trans-Mississippi International Exposition held in Omaha in 1898.

The club has produced three different medals using the logo.  First in 1967 for the Nebraska Centennial.  In 1984, the club used the die again for its 50th Anniversary medal. In 1991, the die was used to strike a medal (not shown) of Byron Reed for the Western Heritage Museum which houses his collection which includes an 1804 dollar.

In 1955, the club had a hand in hosting the ANA Convention in Omaha. In 1960, held its first show. In 1986, the club hosted the first Fall Convention of the Central States Numismatic Society.  The club has hosed several Nebraska Numismatic Association Conventions.. 1n 1947, the club hosted the Iowa Numismatic Association Convention. The Omaha Coin Club is probably the only club to host conventions  for two different states.

A typical meeting starts with a business meeting , a break for refreshments, and followed by an educational program or auction.
Reference:    Club  Issues of Nebraska , 1994, by Steve Drake and John Veach