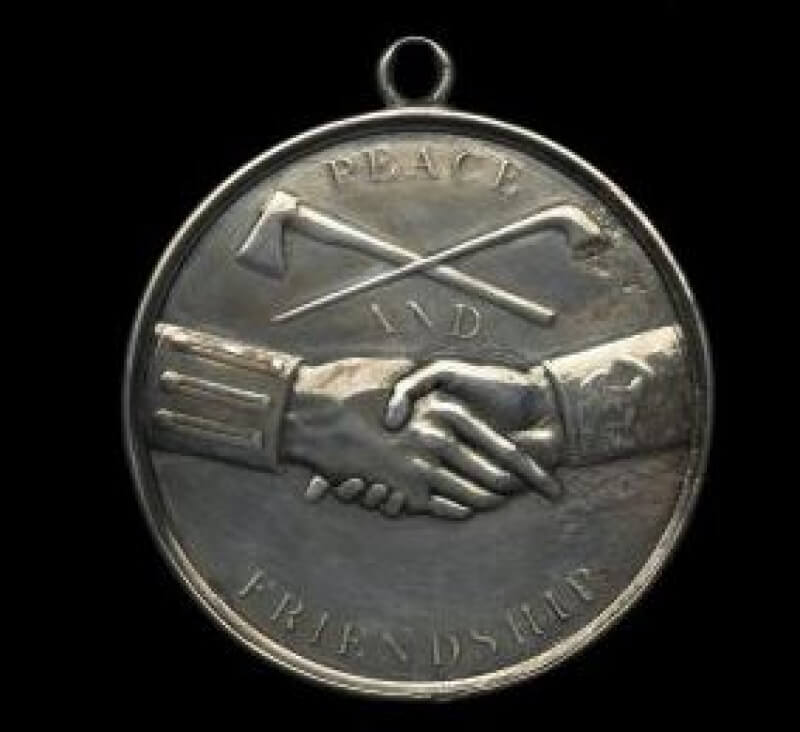 Coin Thoughts #5 from "SUN"
Several years ago I visited an art museum that had an exhibited called "Portraits and Peace Medals." The origin of Indian Peace Medals is obscure, but probably had French, Spanish, and British beginnings.
From the time of George Washington to the presidency of Benjamin Harrison, the Indian peace medals usually carried the portrait of the President of the United States.The medals became cherished possessions among the Indians, who wore and displayed them with pride. Medals were given to Indian chiefs on important events, such as a signing of a treaty, visit to Washington, D.C. or on tour of Indian country by a government official. The medals were also given out by Indian agents on the frontier at their own discretion but according to established norms. The proposed "Regulations for the Government of the Indian Departments," drawn up in 1829 by Lewis Cass and William Clark, set forth a simple outline of rules to govern the distribution of the medals:
1. They will be given to influential persons only.
2. The largest medals will be given to the principal village chiefs, those of second size will be given to principal war chiefs, and those of the third size to the less distinguished chiefs and warriors.
3. They will be presented with proper formalities, and with an appropriate speech so as to produce a proper impression upon the Indians.
4. It is not intended that chiefs should be appointed by an officer of the department, but that they should confer these badges of authority upon such as are selected recognized by the tribe, and are worthy of them, in the manner heretofore practiced.
5. Whenever a foreign medal is worn, it will be replaced by an American medal, if the Agent should consider the person entitled to a medal.
The George Washington medal was hand engraved on large oval silver plates.
The medals struck for Thomas Jefferson began a new style that became the fundamental form of the Indian peace medals. On the obverse was the portrait bust of the President with the name of the President and the date of the start of his administration. On the reverse were clasped hands: an American hand with a uniform cuff covering the wrist and an Indian hand with a wrist in a silver bracelet. Above the hands were crossed tomahawk and peacepipe, and the design was completed with the words "PEACE AND FRIENDSHIP."
The first Westward Journey Nickel of 2004 reverse design, marking the bicentennial of the Lewis and Clark Expedition.adopted the clasped hands design from the peace medal.