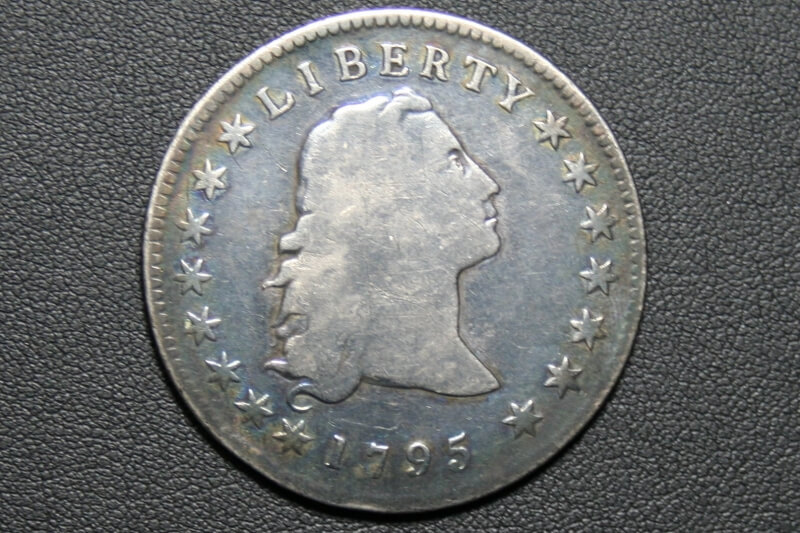 Here are two of my Flowing Hairs! The flowing hair dollar is my first one, I recently purchased it at the Vegas Coin Show. The coin has light graffiti on the obverse that says "JBT", but still in fairly decent shape for 1795! It is a tad off center, making one side of the coin's rim almost nonexistent. It is of the 3-leaf variety. Probably in VG condition. Possibly cleaned. For those of you who haven't held a flowing hair dollar, they are bigger than your regular morgan! It weighs 26.2 grams, and has a diameter of 39-40 mm. The flowing hair dollar was minted from 1794-1795, it was the first US dollar coin. In 1795, it was succeeded by the draped bust dollar, which is not quite as sought after as this one. I am quite excited with this acquisition! The edge reading reads, "HUNDRED CENTS ONE DOLLAR OR UNIT." I collect early silver and copper, so this is an incredible coin to add to my collection!
On the other hand, the 1793 Wreath Cent is my third of the type. It is my second nicest one, but my first raw one. It has a leaf counter stamp on the obverse. I can't see anything on the edge to identify it as the vine and bars edge or the lettered edge variety. The reverse is non-existent, it is HEAVILY worn! It has a tad of environmental damage. It is the second type for the 1793 large cents. The first being the chain which is quite rarer and more valuable, the second being the wreath cent, and the third being the highly coveted 1793 liberty cap. I haven't weighed this one, but on average, they weigh 13.48 grams and have a diameter of 26-28mm. You can find most of these on the east coast, due to the gold rush. Followed by the wreath cent, is the liberty cap large cent which is the rarest of the 1793 types. Although very inexpensive in the 1794, 1795, and 1796 years, they too are highly coveted. I will post some of my liberty caps later.
I have always loved flowing hairs, especially the wreath cent and chain cent. They have always excited me, especially when they are in lower grades! My first flowing hair I ever bought was a corroded 1795 liberty cap in a very low grade. I bought it at one of the first few coin shows I ever attended. I hope to post some more of my early stuff, such as my liberty caps and stuff like that! I hope you enjoyed my long drawn out post (which happens to be my first one). See you next time!