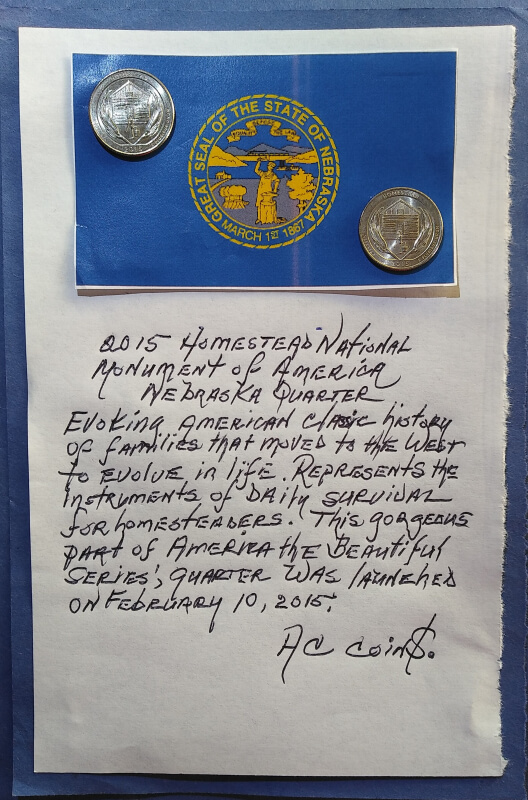 2015 Homestead National Historical Park Quarter
This great Nebraska quarter was launched as part of the America The Beautiful Series in 2015.  I have arranged some images and data pertaining to the site it honors. 
The old house of the homesteaders brings value to the historical feelings and teachings hidden in this quarter. Sacrifice, perseverance and dignity of those who sought better times.


Established as a National Park Service unit in 1936, Homestead National Historical Park preserves 211 acres in Gage County, Nebraska. The National Park Services recognizes the 162.73 acres of Freeman's original homestead as its own cultural landscape, significant for its association with Freeman and the influence of the Homestead Act. The landscape and surroundings remain mostly rural. The natural features, including what is now a restored historic tallgrass prairie and woodlands that are accessed through interpretive trails, largely define the visitor's experience of the landscape. Although no structures associated with Freeman remain, the vegetation composition, topography, and creek retain a similar appearance to the original Homestead claim. A hedgerow of extant Osage orange trees (Maclura pomifera) along the site's southern margin also contributes to the site's historical significance, as some date from Freeman's lifetime.    
Sources: 
@Wikipedia
@usacoinbook.com
From the bottom of my heart, Please do me a favor,,,, If you are here, push the follow me button by my username. For further details about this coins and others please visit my collections section. Thanks,
∆ While in the corresponding collection post, please LOOK, for specific mystery details hidden within this beautiful coin's obverse art.
***AC Coin$.