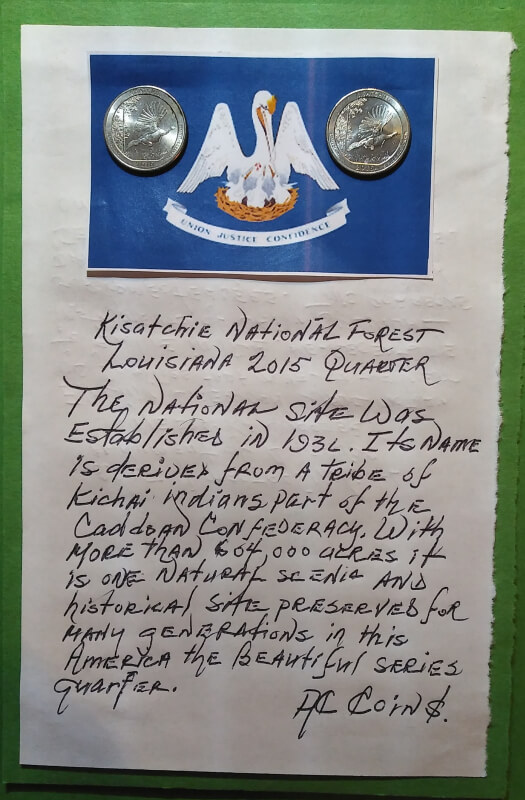 2015 Kisatchie National Forest Louisiana Quarter
Along with the America The Beautiful Series, the Louisiana 2015 quarter evokes the need to preserve American wildlife biospaces.†

Kisatchie National Forest
, the only†
National forest
†in†
Louisiana
, United States, is located in the forested piney hills and hardwood bottoms of seven central and northern†
parishes
. It is part of the Cenozoic uplands (some of Louisiana's oldest rocks) and has large areas of†
longleaf pine
†forests (a forest type that has declined significantly over the last century). It is one of the largest pieces of natural landscape in Louisiana, with some 604,000 acres (2,440†km2) of public land, more than half of which is vital longleaf pine and†
flatwoods
†vegetation. These support many rare plant and animal species.
[3]
[
self-published source
]†There are also rare habitats, such as hillside seepage bogs and calcareous prairies. The forest also contains and provides a buffer for the†
Kisatchie Hills Wilderness
, a nationally designated wilderness area that contributes to protecting biodiversity of the coastal plain region of the United States.
@wikipedia
If you are here, push the follow me button by my username. For further details about this coins and others please visit my collections section. Thanks,
'ąÜ While in the corresponding collection post, please LOOK, for specific mystery details hidden within this beautiful coin's obverse art.
***AC Coin$.