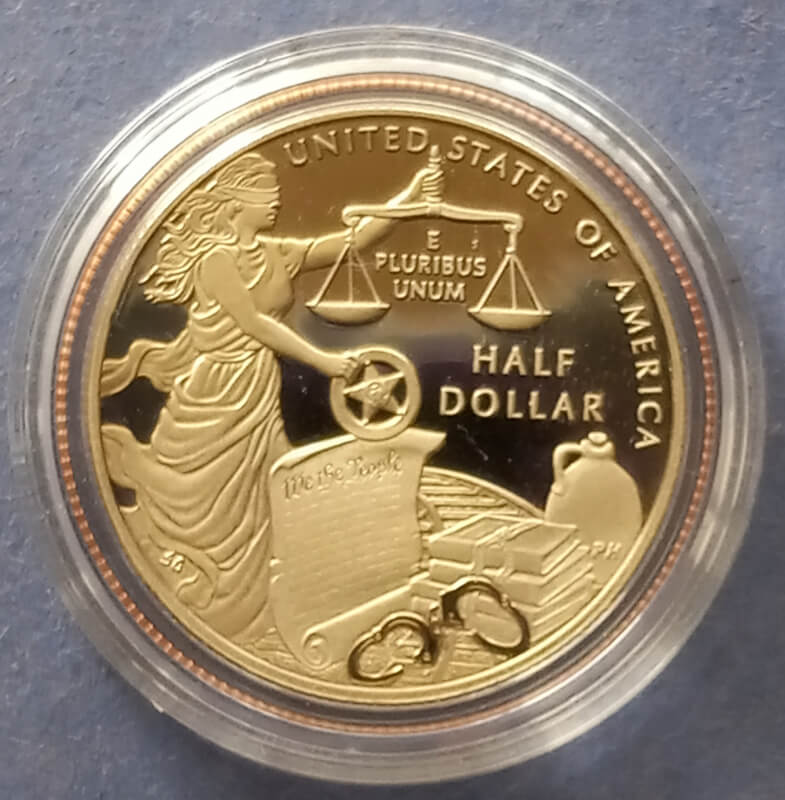 2015-S US Mint, Marshals 225th Anniversary Half Dollar
United States Marshals Service Commemorative Half Dollar

AC ' s  Secrets  # 6

On September 24th, 1789 the Judiciary Branch of the Federal Government organized by law mandate the first group of brave United States Marshals. 
Around December 1956, the well developed US Department of Justice named the first supervising office and leader for the Marshals, nationwide.
Their excellent service protecting court witnesses, handling unprocessed criminals into the Bureau of Prisons, executing arrests of most wanted fellons in our Nation, (sometimes out of our boundaries,) and, managing forfeited properties, many high risk tasks that are greatly honored in this beautiful half dollar issued in 2015 by the United States Mint. 
The beautiful proof coin was struck by the San Francisco Mint and it brings a contrast between old and modern marshals service on one of its sides and, Lady Justice holding the scales and the reknown marshals' star badge medal on the other.
This specific year, 2015, the US Marshals Service was honored in their 225th anniversary. Today, I honor their 232 years of proud and dedicated work for the Federal Justice system and the United States of America. 
In my own words.
For further details about this item and others please visit my collections section.

AC Coin$
Freedom. "Never give up."
"In God we trust."
**You should be able to find specific information and facts about this coin and the referred US agency at US Mint's and US Marshals Service's Websites.