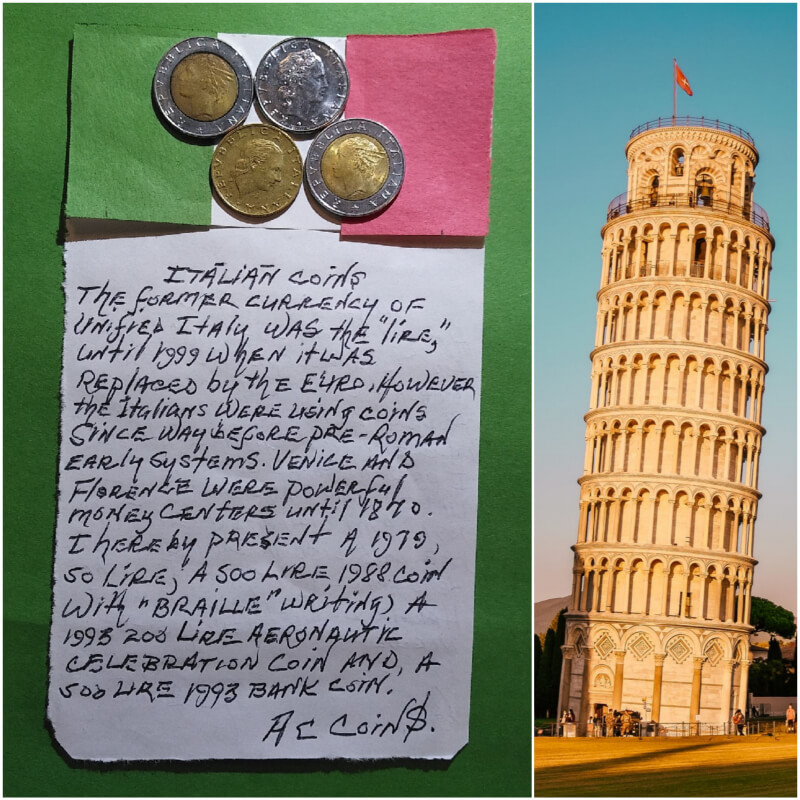 Italian Currency samples before the Euro
***From my perspective, Italy is a magnificent adoptive and caring country opening doors to all  with joy to their lands.

The lira was the official unit of currency in Italy until 1 January 1999, when it was replaced by the euro (euro coins and notes were not introduced until 2002). Old lira denominated currency ceased to be legal tender on 28 February 2002. The conversion rate is 1,936.27 lire to the euro. ***Wikileads***

The Leaning Tower of Pisa is the piazza's crowning glory.
Although only a third as high as the Washington Monument, it was a miracle of medieval engineering, probably the tallest bell towers in Europe.
With 207 columns ranged around eight stories, Tower of Pisa looks like a massive wedding cake knocked precariously askew by a clumsy giant guest.
The construction of Tower of Pisa began in August 1173 and continued for about 200 years due to the onset of a series of wars. Till today, the name of the architect is a mystery.
Leaning Tower of Pisa and Cathedral The leaning Tower of Pisa was designed as a circular bell tower that would stand 185 feet high. It is constructed of white marble.
The tower has eight stories, including the chamber for the bells. ***italiantourism.com/Pisa***
The height of the tower is 55.86 metres (183 feet 3 inches) from the ground on the low side and 56.67 m (185 ft 11 in) on the high side. The width of the walls at the base is 2.44 m (8 ft 0 in). Its weight is estimated at 14,500 tonnes (16,000 short tons).[2] The tower has 296 or 294 steps; the seventh floor has two fewer steps on the north-facing staircase.
The tower began to lean during construction in the 12th century, due to soft ground which could not properly support the structure's weight, and it worsened through the completion of construction in the 14th century. By 1990, the tilt had reached 5.5 degrees. The structure was stabilized by remedial work between 1993 and 2001, which reduced the tilt to 3.97 degrees.
***mypisatour.com***
***Two beautiful cities un Italy are Rome, the capital and Naples, a great destination for many. Italy is known for being one of the top olive oil and wine producers and exporters in the World. Its farm equipments, engineering and furniture designs are considered impressive and reliable by many consumers worldwide.   
 From the bottom of my heart do me a favor,,,, If you are here, push the follow me button by my username. For further details about this coins and others please visit my collections section. Thanks,

***AC Coin$.