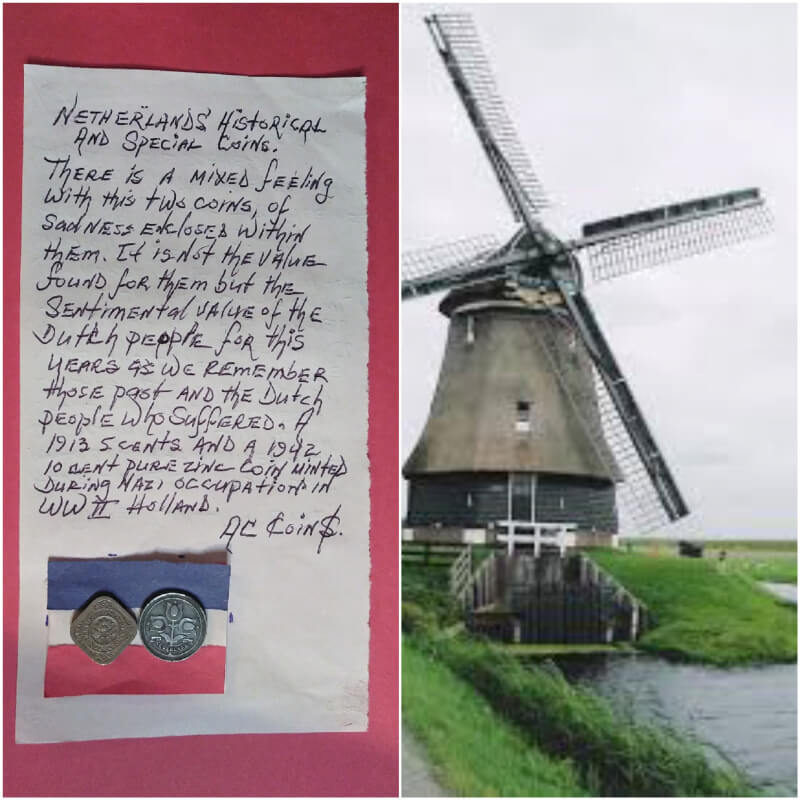 Netherlands historical 1913 and 1942-WW II coins
Netherlands endured many societal and historical events in the early decades of the twentieth century and, specifically during the second World War. 

The Dutch people faced bravely and brilliantly the Nazi German occupation alongside extreme difficulties in scarce resources, food and, being unable to move away for years. 
I present two coins, perhaps for separate eras but with an invaluable richness in Dutch National poise.
***An appreciation about the 1942 10 cents coin:
It is of utmost relevance that regarding of data, technicalities and numismatic gradings, this item should be recognized and seen under a scope higher than its current collector market value. Its historical position, its origins and pure zinc composition are of extreme importance and, are tied as qualitative mediums towards a higher evaluation among numismatists and grading houses. Minted under Nazi occupation in Utrecht, Netherlands, it represents the survival and resistance of the Dutch people when facing an invading force like they did. It is a symbol of social might and determination in the midst of uncertain times. It should be considered a rare and highly collectible item which goes beyond coin books, thru sentimental value and represemtation.***
During the years of this two coins, the Dutch sovereign was Queen Wilhelmina.
 Wilhelmina, in full Wilhelmina Helena Pauline Maria, (born Aug. ... 28, 1962, Het Loo, near Apeldoorn), queen of the Netherlands from 1890 to 1948, who, through her radio broadcasts from London during World War II, made herself the symbol of Dutch resistance to German occupation.
A rather mentioned city of Holland is The Hague. Its International Court is recognized as a worldwide law forum.
Windmills in Holland
Used since early fourteenth century.
There are over 1000 windmills in Holland. Some are still being used for drainage, such as one or two of the nineteen in Kinderdijk. The Molen de Otter, still in operation in Amsterdam, is also used for drainage. The Molen de Valk in Leiden has been restored and now grinds grain once again.
From the bottom of my heart, Please do me a favor,,,, If you are here, push the follow me button by my username. For further details about this coins and others please visit my collections section. Thanks,
AC Coin$.