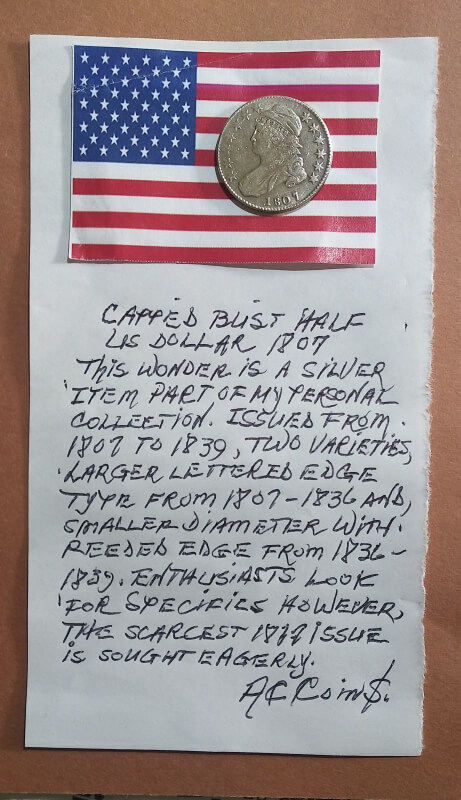 US 1807 Silver Capped Bust Half Dollar
John Reich designed this capped-head concept of Liberty, and it was modified by Chief Engraver of the Mint, William Kneass. It proved to be a popular design and lasted from 1807 to 1839 on the half dollar, 1815 to 1838 on the quarter, 1809 to 1837 on the dime, and 1829 to 1837 on the half dime. All four of these coin were struck in 89.2% silver and 10.8% copper.
There was also a gold design created by engraver Robert Scot created in 1795, also called the Capped Bust, although it is more popularly known as the "Turban Head" because of its unusual, exotic appearance. The Turban design was used on the gold Quarter Eagle, Half Eagle, and Eagle from 1795 to 1834. On the Quarter and Half Eagles, the Turban design was replaced with the regular Capped Bust design in 1808 and 1807, respectively, while the Eagle, having been out of production since 1804, adopted the "Coronet" Liberty Head design in 1838.
@wikipedia
About the Engraver:
He was a magnificent sculptor and engraver. A great number of his works of art and coin art settings are still studied by enthusiasts everywhere.***
Johann Matthias Reich, also known as John Reich, was a German-born American engraver. He was the assistant engraver of the United States Mint under Chief Engraver, Robert Scot.
Reich was born in Furth, Bavaria in 1768. His father, Johann Christian Reich, taught hi to engrave. He also assisted him in making medals. John Reich immigrated to Philadelphis in 1800. The following year President Thomas Jefferson recommended Reich be hired as an engraver for the Philadelphia Mint. Though he was unable to gain a full-time position of engraver, Reich was hired for other duties.
In 1807, Chief Engraver Robert Scot hired Reich as assistant engraver. Robert M. Patterson, the mint's director, then assigned Reich to redesigning most of the coins that were then in circulation. He replaced the Draped Bust design of Scot's with his own design, the Capped Bust. After ten years of no promotion or pay raise, as well as little praise from Robert Scot, Reich resigned from working at the mint. Afterward, he lived in Albany, New York until his death around 1833.
Info, taken from coincommunity.com
From the bottom of my heart, Please do me a favor,,,, If you are here, push the follow me button by my username. For further details about this coins and others please visit my collections section. Thanks,

AC Coin$.