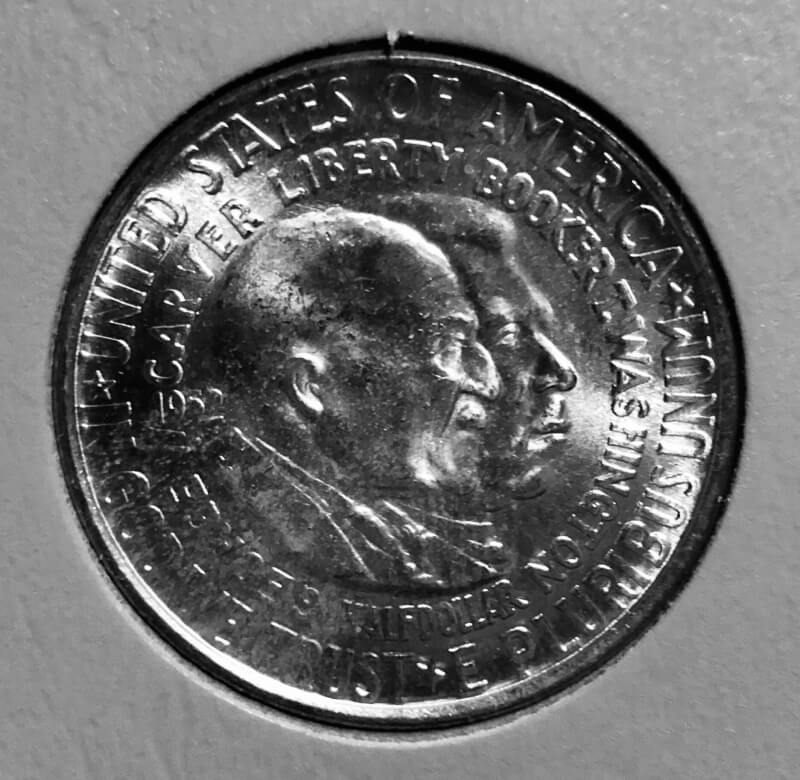 The Carver - Washington half was destined to be the last US commemorative coin until 1982. The legislative background and sales practices of this coin probably had something to do with ushering in an almost thirty year drought in commemorative coinage.
The coin was originally intended to be a one-year issue, meant to commemorate the lives of George Washington Carver and Booker T. Washington. The 1951 coins were minted at all three mints, and were sold singly and in sets. When it sold poorly, the promoter took advantage of the McCarthy era anti-communist hysteria and convinced Congress to pass a bill authorizing even more coins (!) and changed the official purpose to use profits from their sale to oppose Communism. Needless to say, the gambit didn't work, and many coins went unsold. That didn't stop them from being minted through 1954. Many were placed in circulation, and mint bags languished in bank vaults for years.
The pictured coin, dated 1952, is actually from an un-opened mint bag that sat in a bank vault until the early 1990s. I had the pleasure of buying this coin from Bowers and Marena Gallaries, who had purchased the bag intact, in 1991 or 1992.
The story of early US commems is rife with scenarios similar to the story described here. To me, it is part of their charm. It makes this coin, and all the early commems, "story" coins.