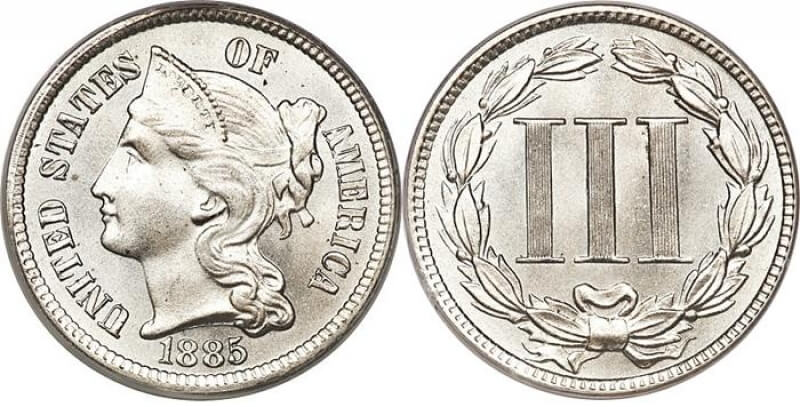 History Of The Three-Cent Piece
The three-cent coin has an unusual history. It was proposed in 1851 both as a result of the decrease in postage
rates from five cents to three and to answer the need for a small-denomination, easy-to-handle coin. The three-cent silver featured a shield on a six-sided star on the obverse and the Roman Numeral
III on the reverse. The coin was initially composed of 75% silver and 25% copper
to ensure that the coin would be considered real currency yet not worth melting down
for the silver.
The coins were physically the lightest-weight coins ever minted by the United States, weighing only 4/5 of a gram and with a diameter smaller than a modern dime (14 mm)
The silver coins were known as "fishscales".
The term "trimes" is often used today for these coins, but that was first used by the director of the United States Mint
(James Ross Snowden
) at the time of their production.
The copper/nickel alloyed three-cent piece was began production in 1865 and they depicted Lady Liberty on the obverse and the Roman Numeral III on the reverse. The three-cent piece was completely discontinued in 1889. There are a few theories to why these coins were discontinued.
One reason often given for the discontinuation of the three-cent nickel piece in 1889 is; the three-cent piece and the dime
were identical in diameter, hence caused confusion upon the introduction of mechanical vending machines.
Another factor may have been that in 1883, the Letter postage rate
dropped to 2 cents, thus removing the justification for this coin. And the third reason is simply because they were generally unfavorable to use in commerce.