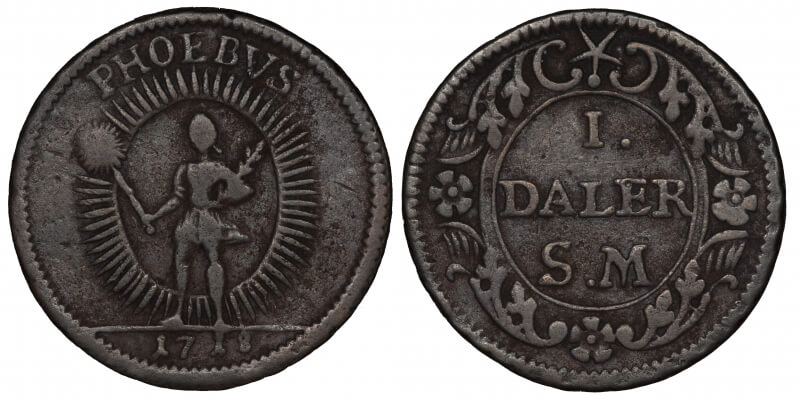 Goertz Daler Variety 9: 1718 Phoebus - Three-Lined & Four-Lined Reverse
 Another variety has been found to add to my growing list. I have spotted several while browsing through images of possible purchases but taking the time to catalog them is a different story. This variety occurs on the 1718 Phoebus Goertz daler, specifically on the reverse. I happened to come across this variety when I was looking through coin auctions online. I typically find these varieties through the exact same thing; I look around online at current auctions or availabilities, and I come across a piece that holds a trait that varies from other pieces I have observed. Finding these varieties is difficult sometimes, but it is also very rewarding.
As I mentioned before, this variety occurs on the reverse of the 1718 Phoebus Goertz daler. I have struggled to find a word to describe what the design detail is supposed to be rather than a decorative element, so I will do my best to describe the location. On the reverse of the daler, the stated value is surround by an oval. On the left and right sides of the oval are single flowers, which have a curved design element above and below them. This curved design element is where the design varies. One variety of the Phoebus daler has four lines connecting the two curves that form the larger curve, while others have three lines. As I said, I am struggling to find the words to describe this variety, so I hope you can view the attached images and see exactly what I am writing about. I have looked through several images of the Phoebus daler and have seen many four-lined curves, as well as many three-lined curves, so I can assume that the two varieties are both quite common. Since I have absolutely no clue what this design feature is called, I have decided to call them the Three-Lined Reverse and the Four-Lined Reverse. The odd thing about these varieties is that most of the reverse design elements stay the same between the two attached images, except the lines on the curves. This seems rather odd because in previously discovered varieties, there are usually a few more features that vary from one another. Nonetheless, if one feature varies, it is considered a variety.
This write-up has been rather rough due to my inability to find a name for the design feature, so I sincerely hope you understood what I was writing about. If you did not, but you wish to, please feel free to contact me, and I will do my absolute best to help you understand. I apologize for the roughness, but if the variety exists, I want to document it, no matter how rough it may be to describe. Thank you for reading, and I hope you enjoyed. I will be writing another blog tonight about another variety I found on the obverse of the Saturnus daler, so you will be seeing another blog from me tonight.
-Gabe, a.k.a. Oobie