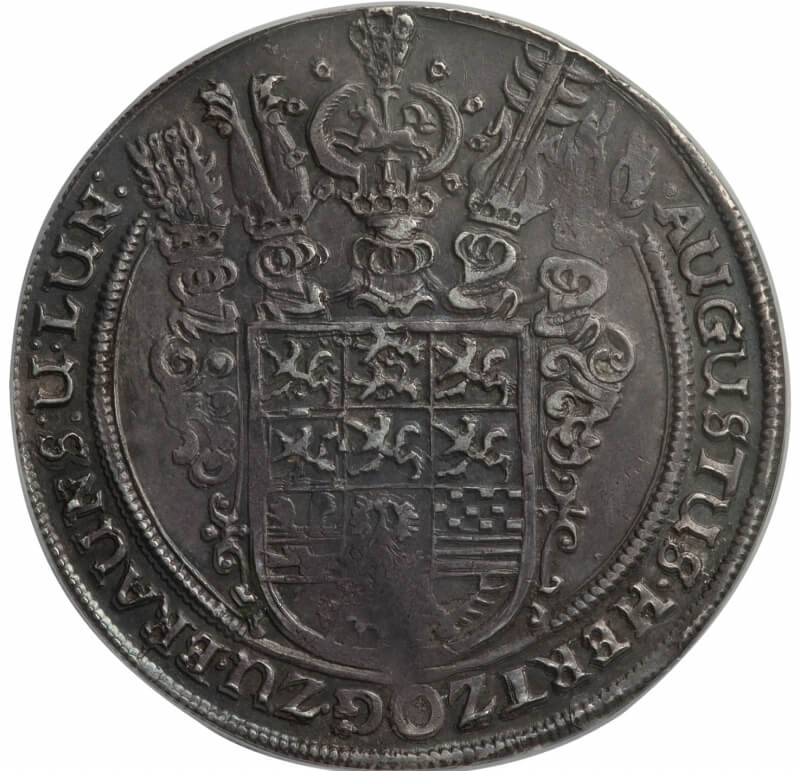 The seven bell thalers are well know crown coins from Brunswich, one of the most active, numismatically, German States. These are all popular with collectors and difficult to find, especially in mint state. All have a version of a bell themed reverse with an obverse of either the Duke Augustus or the dukes arms surrounded by five helmets.
This is photos of the 7th Bell Thaler. It features a 5 petaled flower between each word of the legend on the reverse. A bell is supported by a framework and rung by 3 hands. In the distance is a view of the city of Wolfenbuttel. Commemorating the end of town's occupation near the end of the 30 Years War. The legend reads"TANDEM PATIENTIA VICTRIX" (At last, Patience is the Victor). The duke entered the city on September 19th, 1643.
This example is graded PCGS AU50. It is not the best struck one of these I have come across but is one of the most affordable. It was struck in silver at the Zellerfield mint.
Part of this information is from "A Numismatic Tour of Central Europe" by Hector E. Kirkwood.