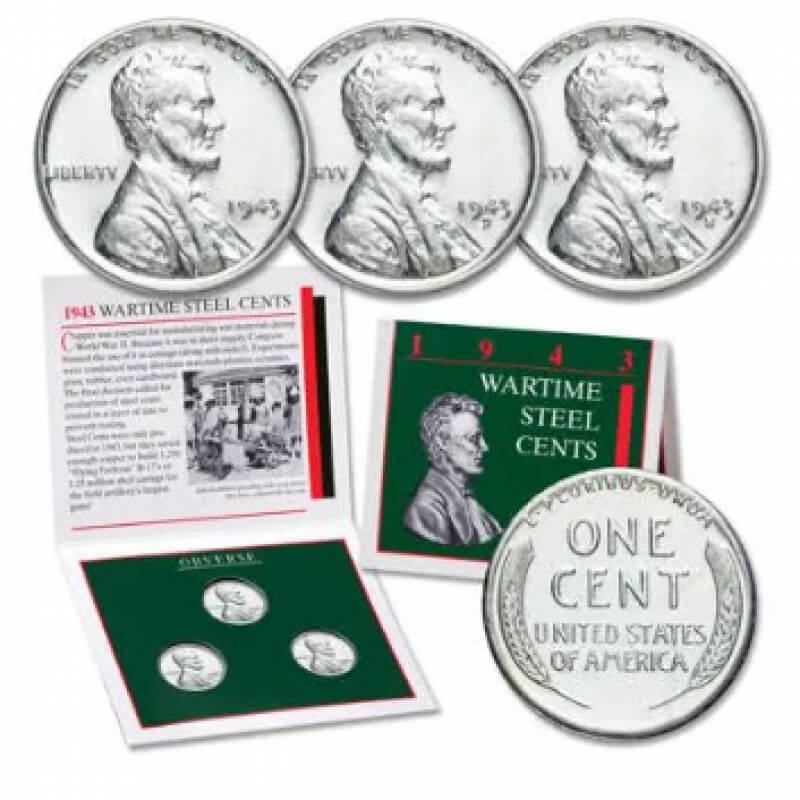 Well, since I am interested in WWII and just got a brand new copy of the game Axis and Allies, I decided to write a little thing on WWII coins.
In 1942, as the US War Department needed copper and nickel (bullets and tank coverings), they decided to victimize the coins metal content first. Proposed was first was a nickel that was half silver, half consisting of another amalgam of metals. As Thomas Dewey soon found out, this didn't work well in the subways, due to their weight. So, back to the drawling board.

The finished war nickel was made of even less silver, and more of the amalgam of manganese and iron. Today, you cannot find these in circulation (though I found a 1943-P in circulation once) due to their silver content, and are available at good prices.

The other US coin to be victimized was the penny. That year, they decided to make their pennies out of steel instead of copper. In concept, it was good. But appearance-wise, the coins tarnished easily. So, one year later, until 1946, they made the coins out of recycled bullet shells they had brought back from the fronts. Both varieties are available for good prices, and are popular as novelties for their appearance.

Onwards now to the coins of the Third Reich. Overall, Nazi coins are generally more expensive than their American counterparts.


In 1939-1945, the monetary unit in Germany was the Reichsmark. These coins came in several denominations, including 25, 50, and (planned) 100,000 Reichsmarks.

The designs, however, are bland. Some have the blocky profile of Paul Hindenburg, the Zeppelin namesake, chancellor, and WWI general. Most, if not all of these coins include the eagle and the swastika. If you are trying to find Hitler on one of these, I don't think you can.

Overall, buying them is fairly cheap, with some running up too $10-$15, tops. Be careful, as some companies try to hook the unsuspecting person in by selling one of these truly as novelty for $40.

Next post, we will be mentioning British, Japanese (Moke if you want to do this you can), and Italian coins. Thanks!