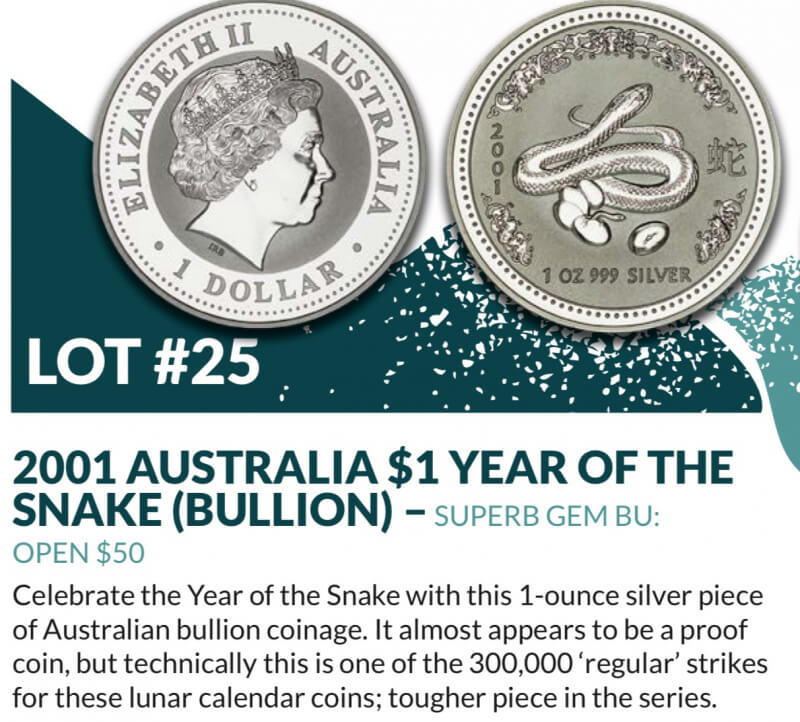 Hello fellow YNs and YNH!á

As you can see from the title, this will NOT be a normal blog. Snakes (and reptiles in general) have always fascinated me. I believe that at one point in every person's life, they will be fascinated with sharks, dinosaurs, reptiles, or a combination of the three. Tell me which animal fascinated you the most out of those three! For me, it was snakes and sharks. I don't know why, but dinosaurs never caught on with me.

Moving on, this blog will be on actual mint bullion and ancient coins, but I did put one other numismatic related spherical piece of metal that have these fascinating reptilians on them. Let's get right into it!

First of all, the coin that inspired me to write this blog was one of the auction lots this year. If you look back in the 2021 auction catalogue, you will find lot #25, which was a $1 Year of the Snake one ounce of silver bullion coin from the Australian Mint. I was able to bid on this coin, but was unsuccessful because of the low amount of YN dollars I had at the time (right now I have almost double, even thought the 2021 YN auction was a little over a month from when this blog was written). I still hope to find this at a coin show, and if I do, áI will pay whatever they ask even it it is a little more than I would prefer to. I have a picture of the catalogue for the snake coin in this blog, though I strongly encourage you to check the catalogue out for yourself.á

The next piece (or pieceS) are the ancient coins with snacks on them (I realize that is a typo, but it's so funny that I won't correct it). áThere are so many different designs that I can't talk about all of them, but I will highlight one that I really liked the design of (it is pictured below with the other pics). It is from 217-218 AD, and is 28mm in diameter. For those of you who collect ancient coins, I hope you know where Markianopolis is, because that is where this coin was struck.

The last coin (if you want to call it that) I happened to stumble upon when I was doing reader hair for this blog, and I had to include it. áI have dubbed it, "Hobo Dollar with a Snake". Super original, huh? But really, it looks like a hobo nickel carver took a 1921 Morgan and just started carving. It looks super cool though, so I though I would include it.á

Anyways, I hope you enjoyed this (hopefully) informative blog, and have a good rest of your day.

Keep collecting,
thatcoinguy