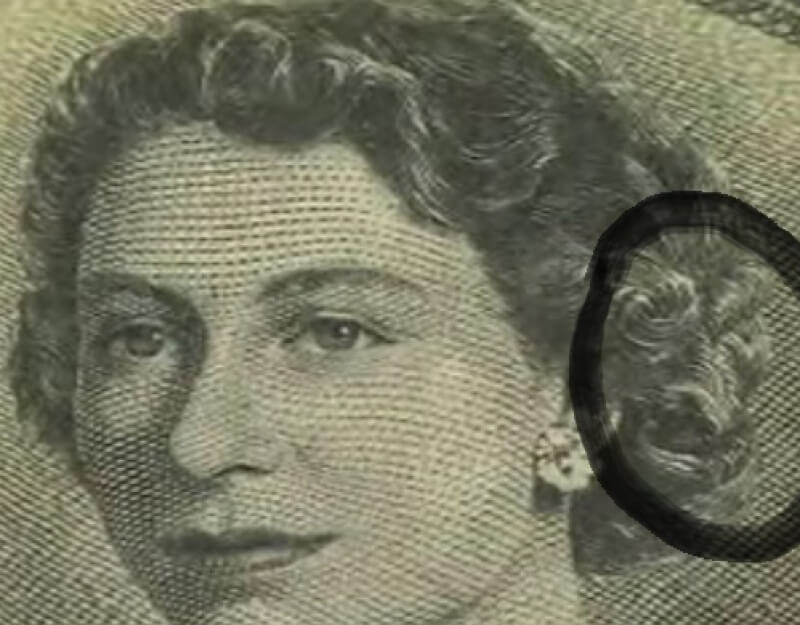 Queen Elizabeth II was in her second year of reign when Canada issued their first series of bank notes with her image on the right obverse.  Unlike the United States, the Canadian Bills have the same portrait on each denomination. This first series of 1954 had $1, $2, $5, $10, $20, $50, $100, and $1,000 dollar denominations and besides their Queen Elizabeth portraits, they also all shared a devilish detail. 
In Queen Elizabeth's hair a very clear image of a horned devil appears in the Her Majesty's tresses.  Unlike some images that are hard to see, this one is very clear to the unaided eye.  In fact the image is so strikingly obvious that the Canadian public started believing the image was engraved there by an Irish Republican Army sympathizer or a French Canadian separatist. 
Despite exhaustive investigation, there has never been proof that the image was anything more than mere happenstance.  There was a brief revival of the issue when the original engraver died and his personal ties to an individual that might have been Satanic cultist was uncovered.  But nothing came of this.  The Notes were replaced in 1956 and all the Devil's Heads notes that returned to banks were taken out of circulation.  Because of their relatively short period of circulation and their publicity, many high grade examples exist. 

My example is a $1 bill in XF40 condition.  It came to me courtesy of a Friend on this very board.

Bibliography:

https://en.wikipedia.org/wiki/Canadian_Landscape
https://www.coinsandcanada.com/banknotes.php