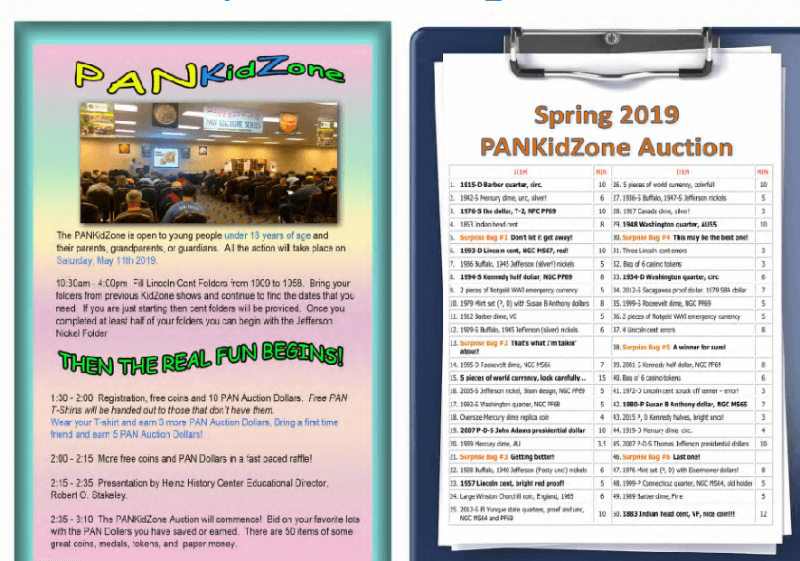 The Vibrant Heart of Our Hobby
Most of us in the hobby have a special place in our heart for the Coin Show.  Whether it be a large national show like Worlds Fair of Money, a strong regional show, like FUN or Long Beach, a smaller show like PAN, or the smallest shows organized by local clubs with maybe 30 participants at the bourse.  Regardless of the size of the show, they all have one thing in common, US, the Numismatist, filling our albums, finding our treasures, and trying very hard to instill the love of our hobby to the next generation.  

On May 9th, 10th, and 11th, the Pennsylvania Association of Numismatists (PAN) will be holding their Spring show in fabulous Monroeville, PA (just outside Pittsburgh).  I joined PAN while still living in California with the express intent of using their good offices to fulfill my dream of becoming very active in my hobby as a retiree.  Now a little over a year into my retirement, I have found my niche and I am a proud participant in their two yearly shows.  This spring, I will be helping to run the Kid Zone with an eye to taking over the whole program in the years to come.   Nothing makes me happier, as a collector, than seeing the smiling faces of young collectors as they visit our table and participate in our activities.   We have a Lincoln Cent Table, full of Wheaties, for them to pick through, free of charge, we issue auction dollars for just showing up at our table, with more dollars for bringing friends, or wearing our free PAN T-Shirts, we have educational programs for their enjoyment, and finally we have dealers and members who donate so our kid zone auction has plenty of material.   

I cannot wait for Kid Zone to open on 11 May, if you are at the show, stop by and say Hi.   I will be there with the biggest smile on my face.