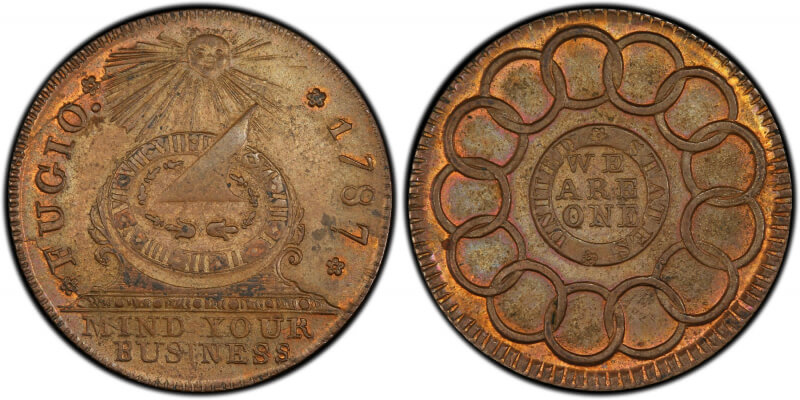 Hello everyone! This is my first blog on ANA, so I hope you enjoy!
I will start with pre-Revolutionary war, so the coins I will be talking about aren't the modern US denominations.
The Massachusetts "New England" coinage were the earliest coins minted in the colonies, and even though these coins were minted in 1652, they had no date. The colonialists minted the Threepence, Sixpence, and the Shilling (twelvepence) of this design. Before they minted these, English coins were so rare that the colonists often used corn, pelts, bullets, and even used foreign silver and gold coins for buying goods. The simplicity of this design and the fact that planchets were often not perfectly round made it simple to clip the coins, and counterfeit. (Note: some people would scrape, or clip the rim of coins made out of precious metals, and collect the shavings to make a profit, this is called clipping). So, they changed the design to the Willow Tree Coinage (1653-1660), Oak Tree Coinage (1660-1667), and later, the Pine Tree Coinage (1667-1682). (Note: these coins are only for Massachusetts; there were other coins for different colonies).
Due to lack of copper coins, the colonists cut silver coins into smaller sections for lower face values.
These are post-Revolutionary war coins.
Although the "New England" coinage was the first minted in the colonies, Fugio Coppers were the first coin issued under US authority in 1787. Each one was worth one cent when they were made. Then, in 1792, they made a proposed coinage with a silver center cent, birch cent, half disme, and disme. The next year, the mints made large cents and half cents. Other face values were developed over the next few years.
At this time tokens were made, too many to list in this blog.
I hope you enjoyed this article, as much as I had when researching, and making it. Until next time, over and out.