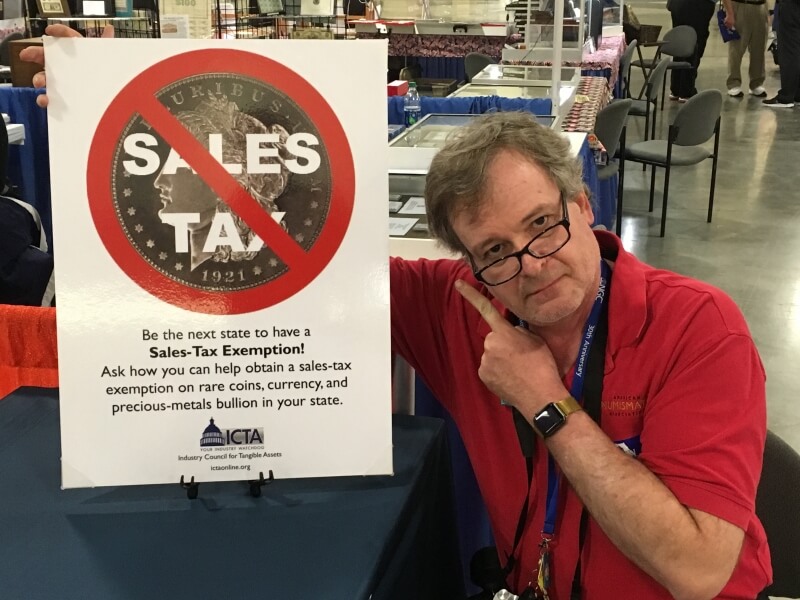 2017 Winter FUN: A Coin Odyssey
Well, my son and I now have our "epic road trip" under our belts.

We left the State Capitol in Harrisburg at the end of swearing-in (at?) day on Tuesday January 3, and took an aging Ford Taurus as our trusty steed to Fort Lauderdale. Since Tuesday had been a whirlwind of activity, we were already kind of running on low, so we decided to ditch our "let's drive straight through the night" plan (for now) and figured we'd go as far as one full tank of gas would take us - which turned out to be Wilson, NC. So we grabbed a few, not nearly enough, hours of shuteye at a nice little Sleep Inn (my choice of hotel bonus plans is "Choice" so ...) there. Breakfast bar was nice enough, so on we trudged.

My son had never had the "South of the Border" highway billboard experience, so he got it in full daylight southbound. We had no idea what delays would affect our southward progress, so we didn't know whether we'd make Fort Lauderdale Wednesday night or have to bail and sleep somewhere north of there and go straight to the convention center. As it turned out, we arrived at our Fort Lauderdale "home away from home" by 10PM Wednesday night, after making the obligatory stop at the Florida line for free OJ and brochures, and stopping to have a proper BBQ dinner at a old-school 1960's kitsch era roadside BBQ joint on U.S.1 south of Titusville in the space coast region. It was easy to imagine Alan Shepard, John Glenn, and Gus Grissom at the next table discussing their ideas for redesigning the Mercury capsule. My son likes to eat at non-chain sites that he finds online, and this one was a pure gem.

This is Louis's BBQ Shack, 2191 N. US Hwy 1, Mims, FL 32754.
There were no astronauts at the next table, but there were two guys in matching dark blue company t-shirts and my ears picked up a reference to my Pennsylvania hometown. So I introduced myself. Both guys live less than five miles from me and were there doing some contract work on beautifying the NASA cemetery, a thing I wish didn't need to exist. We exchanged niceties before my son and I returned to our I-95 hurtle southward.

It's been a while since I've been to the Broward/Miami-Dade metroplex - easily 30 years, maybe more. Growth, growth, growth. So that's why FL has 29 electoral votes! Here's a tip. South Florida drivers come in two flavors - old and slow like me, and young "whipper snappers" who apparently have a death wish to die intermixed with wrinkled and mangled steel. I have NEVER SEEN such aggressive maneuvers on pavement, and I used to photograph Indy cars as a sideline.

Our hotel was a Comfort Suites some 17 miles from the site of the FUN show, which made for a 35 minute commute. Oh well, we put Siri to good use, and she knows stuff about how to get around in Broward.
I forgot how hard it can be to roll a millennial out of the rack in time for the hotel breakfast and leave enough time to get where he needs to be. I was vertical at 6:00 AM and he'd have still been horizontal at 11, if I'd let him. But we needed to be at FUN by close to 10AM because we were "on a mission from gawd", aka we were there to take the ANA's Exhibit Judges' Familiarization and Certification course, usually taught by Joe Bolling, but being taught at FUN by Brett Irick, the "man of two countries". I call him that because Brett lives a binational life in the Detroit/Windsor Ontario area. I've been trying to get this certification under my belt for years, and my son barely missed the cut when he first took it at ANA Rosemont in August 2015. My usual ANA show duties make it tough to squeeze it in, being Rhonda Scurek's minion and all, so when I saw it offered at FUN, I jumped at the chance. My son wanted a second bite at the apple.

We would have been on time except Siri directed us to the convention center THROUGH the secure area of Port Everglades, the cruise ship and freight port. That meant getting stuck behind trucks that needed "enhanced attention" clearing security. So we rolled into the presentation room at what looked like 20 minutes late, but they were obviously just getting under way. No harm. No foul.

The initial course took just shy of two hours, and I was set loose upon the U.S. Coins section, and Nicholas, my boy, was turned loose on the foreign coins section. His specialty is the coinage of the former Soviet bloc nations, especially the USSR itself. Cue the Beatles White Album.
They advise you to start with an overview of the exhibits, like you were a casually interested viewer, which we did. It was obvious to both of us that Nick had a different problem from mine. His was way too much good stuff to sort out, and mine was finding a score decent enough to justify a reward at all. The general quality of U.S. Coins exhibits lately is NOT good. Too many flippers and profit turners, and too few people doing serious collections any more. Or maybe most people think U.S. Coins will be too full of great stuff and they go toward other material. Either way, 'taint happenin'. U.S. Coins exhibiting is a relative wasteland. And it wasn't just there at FUN - it's a trend I've noticed at ANA shows, too.

In 2016, I went to the decennial International Philatelic Exposition in NYC. At their show, 80% of floor area was exhibits, and only 20% bourse, and the 20 included national postal administration booths. Coins are the opposite. Bourse out the wazoo, but very little in exhibits. Gotta get all that gold and silver bullion into the hands of the "true believer" economic apocalypse-istas, I guess.

So after Nick and I had a chance to view the exhibits from the 30,000 foot level, we decided to try to look up friends - Rhonda Scurek, Kim Kiick, and John and Nancy Wilson at the ANA booth, Kathy McFadden at ICTA, Dave Harper at Krause Publications/NN, Charles Morgan from CoinWeek, and as always, David Lisot and his trusty video rig (hot date!) from Cointelevision.com. Bourse visits interspersed. Nick found a few box stock dealers to search for Soviet material, and my first day purchases were limited to the U.S. Mint. A 2016 edge-lettered burnished ASE and the 5-coin ATB clad 2017 proof set. I get one of those each year to keep my Dansco album up to date. No time like the present.

We browsed way more than we bought on Day 1, but made a list of booth numbers to return to later. No major show is done until I visit the Mac Daddy of exonumia, Paul Cunningham. I'm working on an exhibit, and Paul usually has SOMETHING I can add to it. He did. I did. Day 1 would end with those 3 items purchased - two from the Mint, one from Paul.

As my son says, I work a "social game" at major shows. It's more fun for me than "getting stuff", and the stuff I do get is kinda "off the beaten track". Guilty.

We decided to end Day 1 at the "Spider Press" / old BEP engravers' booth for the show souvenir card drawing at 4. My son won #20 of 200 (for the whole show) to add to his ANA Boston 2010 one. These are a rapidly dying art. Engraving for even our currency is going digital. /sigh
Anyway, after Nick's successful Yelp find for eats the night before, I put him on finding a seafood joint kind of near our hotel. He came up with another winner - Tin Fish in Sunrise,FL. After an appetizer of Conch fritters (not Nick's favorite, but I liked them), I had gator tacos and the slaw for which the place is famous. Nick opted for Fish n' Chips. Must be the 3 months he spent in England with his mum a few years back. The slaw was just the right tartness I like, unlike the too sweet dressing they serve back home. Nick was not into it, so I swapped his for my fries and silently made my M.D. happier, EXCEPT....

Day 2 was SUPPOSED TO start with an ICTA task force meeting at 7AM, but as I (7am meetings don't exist for millennials) drove toward the convention center, I felt what I had been dreading. I am apparently dependent on eight (8) prescription drugs which I dutifully parceled out in one of those SMTWTFS boxes, but I could not find them in my luggage or other stuff. I had had no doses since Tuesday and it was now Friday. I started to feel PRECISELY the way I felt right before I had my cerebral hemorrhage back in 2009. This was not good. I told Siri, "Hey Siri, give me directions to a 24 hour CVS." Which she DID!! It was 6:30 AM and Siri led me to the pharmacy a mile or two from my hotel. The pharmacists went online, found my whole prescription history from my PA based CVS, got approval to refill all but one of them from my insurance, and gave me a good cash price for that one. 45 minutes later, I was dosed up, back at the hotel to pick up Nick, ate breakfast there, and took a new route to the convention center.

Right past Fort Lauderdale Airport.
On Friday, January 6, 2017.
Unarmed.
Really, I promise.
We arrived, again through Port security, to complete our mission. We had exhibits to grade and for novice graders, a comment on every element of every scoresheet is REQUIRED. They need insight on what went into your scoring thinking. This presented a little challenge for me, because my handwriting never did fully get back to acceptable after 2009 and I was still a little extra shaky from my medical underdosing. I hadn't gotten my right hand back to normal yet. But I forced myself to write slow enough to maintain legibility.

Cripes! Writing out comments on judging sheets can be time-consuming! By the time we got down to serious writing and evaluating, it was 11AM. I pulled up a chair, because some of the exhibits were loaded with small text. A judge has to read EVERY word of every exhibit. No skimming. To save you the agony, exhibit A-1 was interesting numismatic material displayed with all the overall visual appeal of a dirty Q-Tip. A-2 was a classically designed exhibit with material much lower in condition than the exhibitor himself said was readily available, and A-3 was loaded with factually inaccurate statements and was easily seen as a 2015 exhibit that was quickly thrown back in cases to harvest another award. Yecchh! The top three winners at Red Rose Coin Club's local show would have put all three of these in 4th place at best. And this was the F. U. stinkin' N.?!?! Sooooo, I had a lot to write about. The deadline to return our scoring sheets was 4PM, and I finished around 2:30, so I did a victory lap around the bourse. Nick continued to write.
Again, this victory lap was more visiting old friends than buying, but I found a place to upgrade my wartime British half crown for my U.K. type set. It was a gorgeous 1945 in MS65ish condition. The same guy threw in a loose 1970 proof ha'penny and thruppence. I have those series by date and I hadn't added the proof-only 1970's to either Dansco album. I have several 1970 sets, but didn't feel like breaking them up.

I checked back with Nick about 3:15 and he was done and had submitted his score sheets in the World section. By this time, the Public Address system had announced what my Apple Watch had told me hours earlier. There had been a shooting event at the airport, and flight operations were shut down. Were FUN a Saturday-ending show, a Friday event might have changed some dealers' plans, but since FUN runs until Sunday, the impact was negligible, except for the people glued to flat screens tuned to CNN in the hallway of the convention center.

We weren't going anywhere toward the airport Friday evening, since we had long decided Friday we'd scout for dinner across the ICW on the beaches areas. Before that, Nick found a dealer with several Soviet 1 rouble commemoratives from the 1980's and 1990 that were missing from his set and had a stock box pulled apart and a stack of "takers" started. When they announced the 5-minute warning for the day's Spider Press drawing, we settled up quickly and got there with less than a minute to go. This time I won #56 in the series.
With our second spider press souvenir card for the show under our metaphorical belts, we headed for the parking lot and the exits. The Caribbean Princess was still in the dock, and there were police and Broward County sheriff vehicles everywhere!! (I am still getting used to this - in Pennsylvania, County Sheriffs and their deputies have no more police powers than you, I, or any citizen have. They are glorified courthouse security guards and process servers, PERIOD! The state and MUNICIPALITIES have all police powers, the counties have none.) I later learned that all the eyewitnesses from the airport shooting had been transported to the convention center for debriefing. Good idea. Lots of private interview spaces and more comfortable than most airports, and only a 3-mile trip. Not too bad.

That did make the exit traffic toward A1A and the beaches a little hairier. It took awhile to get over to the beachfront. We had enough time and light to dip our tootsies into the Atlantic Ocean in January, not a smart thing in my latitude. There were some hardcore beachgoing kids in the water fully (air temp was mid 60's), but a little wet feet was all we were up for. Besides, I was getting hungry. We randomly selected a typical beach town bar/bar food joint and I had a half rack of baby back ribs and a local dark brew, and Nick went for the brisket and a Yuengling Black & Tan, brewed 30-some miles from home. Real adventurous, there, kiddo!

Fed, tired, and running out of inspiration, we took yet another route (Siri took us a different way each day!) back to the hotel, prepared to pre-pack for the return trip the next day after phase 2 of the Judges' Familiarization & Certification course - The Results.
Day 3, Saturday, dawned just plain old hot and humid, with a Snowpocalypse predicted for the Carolinas and northward, followed by just plain mean cold air after it. And we were going to be driving right into it. We're tough, we know how to drive in a little snow. Yeah, sure. We didn't know what North Carolina doesn't know.

We did some serious bourse shopping before a great talk on doubled dies at 11:30, where the speaker used Silly Putty to emulate the process of how regular Type II and Type IV doubled dies get formed. He handled RPM's, overdates, all kinds of wickedness that can befall the die-making process. Great talk!

One more bourse stop (a gorgeous little sterling St. Bernards medal - patron saint of skiers and mountaineers) and the witching hour of 1PM approached. This time, we were on time.

Bottom line: the ANA has two brand spanking new certified exhibit judges:

V. Kurt Bellman in U.S. Coins
Nicholas R. Bellman in World Coins / European

I was tougher than the "real" judges on my exhibits, but my grades showed that Irick and Lighterman found my scores more correct than the "real" judges' were. He hoped that I'd strongly advocate for my lower scores at future judges' conferences. Anyone here think I have a problem advocating for my views? Hmmm? I didn't think so. If you doubt that, read back posts here on money.org.
So anyway, we set out in search of a Speedway gas station, the one whose bonus points I'm in. By the time we hit I-95 with a full tank and head of steam, it was about 3PM. We had no hotel for the night, so we decided to drive as far as we felt we could. The skies ahead told a story of a massive collision of air masses ahead. Yup, yup, yup.

The tank of gas took us into Georgia. I had been watching the temperature outside tumble on my Apple Watch. When we left Fort Lauderdale, it was 83 degrees. By the space coast it was low 60's, and by Jacksonville it was just plain cold. The clouds seemed to require Carl Orff's Carmina Burana as background music. Ugly and ominous. The Georgia stop saw a change of drivers as Nick took over. He immediately complained the car was pulling right. Low right front. I darn near froze my hands on the tire air pump. I did some calculations and told him our temperature gradient had been a drop of one degree Fahrenheit per 6.5 miles recently. Nick has a heavier foot than I do, and the Taurus was more than game, so Nick bashed us through South Carolina and up to Fayetteville, NC when the gas tank got light again and he was developing butt cramps. I had done mini-naps through SC, so I was okay to drive. But the North Carolina highway crews on I-95 didn't figger no Yankees be fool 'nuff ta drive on no 95 affer a snowfall, no siree!
Fayetteville was COLD! Mean cold. Ugly cold. 2AM wind howling mean ugly cold. There were wisps of snow blowing around. Ice collected at the base of the gas pump islands. Nobody was on the roads, nooooo-body. Meh. I figured so what. Army town. Ft. Bragg. No problem.

Uhh, big problem. As I turned the Taurus northward back onto I-95 from US301, I saw my first little wisp of black ice, which slipped neatly between the track of my wheels. Nothing much. But it quickly went from meh to bad to worse. Black ice was just the beginning. Around Rocky Mount, the untreated nature of I-95 became ridiculous. That road had seen no pretreatment, no salt, no sand, no nothing. I-95 was a washboard of various thicknesses of packed untreated ice. The maximum practical speed was 35mph and the car sounded like a Sherman tank traversing a log bridge. The speed limit of 70 was but a wish wrapped around a fantasy. Nick slept through it all. Cars and 18 wheelers off the road were an every few miles occurrence. I got sideways at least six times. The traction control light on the dash looked like it was sending out Morse code.

Nick and I nearly died 12 hours into our ANA judging careers. Thanks for the great time, North Carolina highway department. There was a Rest Area right at the Virginia line. You're in NC when you enter and Virginia when you leave. The in-ramp was snow-covered and the out-ramp was clear. The facilities were under construction, so I stood alongside the car and peed for what seemed like 5 minutes.

Virginia had a few black ice wisps hither and yon, but nothing like the North Carolina I-95 experience from hell. After that, I was getting drowsy the farther into Virginia we went, so I took 95 rather than the Richmond by-pass to keep the visual stimulus up. That only worked so long until I had to have a Starbucks recharge, which I got south of D.C. Nick took it on home and I slept like a dog through Washington and Baltimore. One last fuel stop north of Baltimore to avoid SOME of Pennsylvania's obscene gas tax finished the stops, and we rolled into Nick's place at 11:22 Sunday morning. I got home about 12:45 and never saw a snap of the NFL playoffs.

Zzzzzz.

Next trip: ANA Orlando in March.
Southwest Airlines on a bonus voucher southbound.
Amtrak on Guest Rewards points northbound. My co-pilot is unavailable.

You may have noticed I buy virtually no U.S. Coins at major shows. The prices are just too astronomical compared to what I get at local backcountry auctions and estate sales.