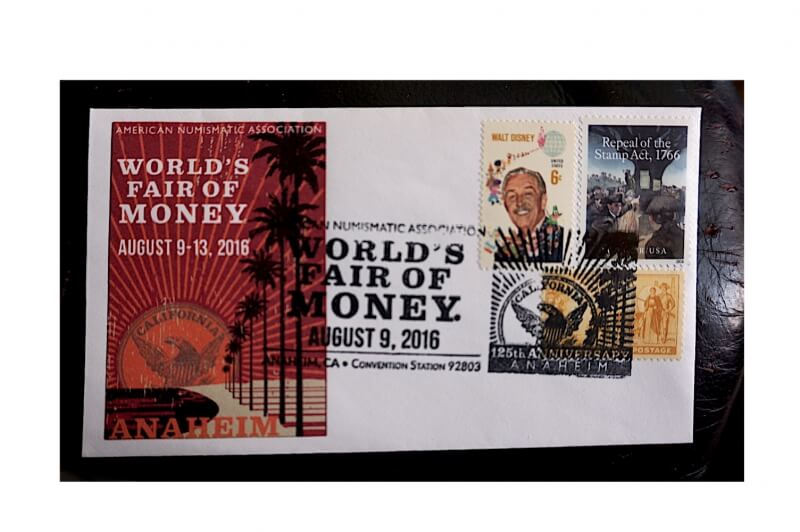 Anybody Remember Themed Philatelic Covers?
Are you old enough to remember the craze of First Day Cover collecting in philately? There used to be a lot of people who were both coin collectors and stamp collectors. But in these more modern days, many people have decided to specialize in one or the other. I guess I'm just old enough to have a foot in both worlds. I like to create my own covers, with a particular theme. I especially like to collect covers with the theme of major coin shows.
The United States Postal Service will have a booth at the ANA World's Fair of Money in Denver, Colorado from August 1 to August 5. They will be offering a souvenir cancellation for envelopes and whatever other sorts of papers that people would like to have stamped and canceled. Of course the Postal Service will be selling stamps on site, but just the normal stamps we see day in and day out. Wouldn't it be a great idea to add a few numismatically themed stamps to your souvenir covers for the World's Fair of Money?
Well I just may be able to help you out!
I will be bringing with me to Denver partial sheets of some of the most popular numismatically themed stamps in United States history. In addition I will have two different stamps celebrating the great state of Colorado. I'll leave it to the readers imagination how to create a particular envelope for such a souvenir cover. If you'd like to get some of the stamps for just their face value, I got them at a really good deal, perhaps I can help you out.
I will be bringing the twin 10 cent Banking and Commerce stamps, the 13 cent tiny stamp with an Indian Head cent on it, and the 29 cent stamp from several years ago celebrating numismatics itself. In addition to those I will have the 3 cent stamp celebrating the 75th anniversary of Colorado Statehood in 1951 and the centennial in 1976.