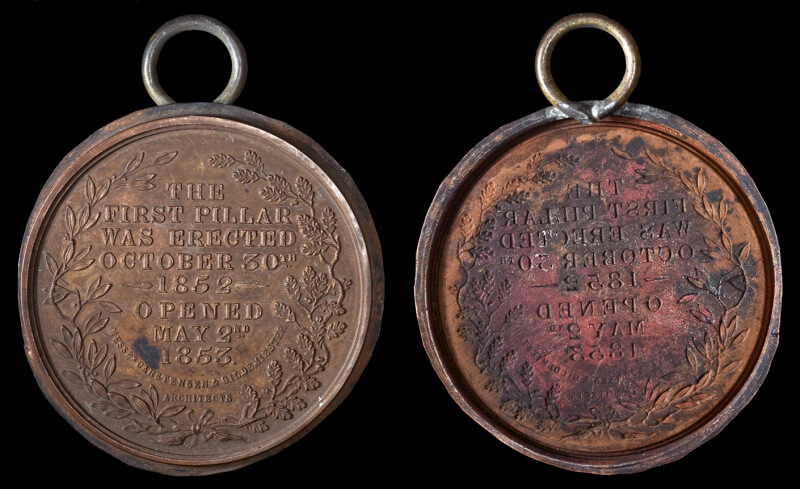 1853 New York Crystal Palace Electrotype Shell
Every month or so I catalog recent purchases and take some time to research the stories behind them. I often purchase something because it I don't quite know what it is and suspect there might be a story behind it.
I am currently researching early expositions for a new book on so-called dollars that I am working on with Jeff Shevlin and John Raymond. In the process, I look at a lot of medals whether the qualify as a so-called or not. The first U.S. international "exposition" or "world's fair" in America was arguably the 1853 New York Exhibition of the Industry of All Nations or the New York Crystal Palace. The building—the Crystal Palace— was modeled after the 1851 London Crystal Palace constructed for the Great Exhibition. The U.S. Crystal Palace was designed by the architectural firm of Cartsensen & Gildemeister.
Scovill Manufacturing Company of Waterbury, Connecticut produced a medal commemorating the building. A copy in the Smithsonian can be viewed at:
http://americanhistory.si.edu/collections/search/object/nmah_1382641
The 52mm medal was struck in white medal.
I came across the electrotype copy of the reverse pictured here on Ebay and bought it for my collection. I was attracted to it because it is a neat example of an electrotype, as well as an artifact of the first U.S. international exposition, even though it is not a so-called dollar. The flange has not been trimmed away, so maybe it was made to use for printing purposes or to represent the reverse of the medal in a display. Maybe a collector wanted one and could not find one to buy, but was able to borrow one to copy. The loop added on the reverse suggests it was meant to be suspended from something or worn.
Why? When? Who?

Maybe I will discover the full story one day.