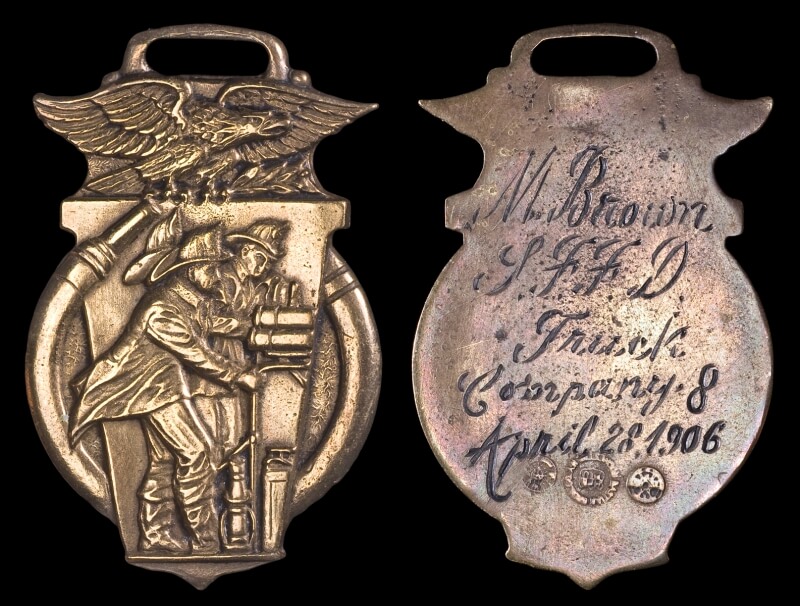 1906 San Francisco Fire Department Fob
My son is a fireman in Idaho and a 2011 recipient of Idaho's Medal of Honor for valor and heroism as a fire fighter. I hope that his son, my grandson, will catch the collecting bug and become a numismatist in his own right some day. To that end, I have been collecting early fireman themed medals and tokens with the idea that they will become his own collection when he is older (he is only 5 years old now).

Last summer, a fellow collector showed me images of the fob pictured here and offered it to me if I could tell the story of the reverse inscription. It was assumed that SFFD stood for the San Francisco Fire Department and the April 1906 date somehow tied it to the 1906 earthquake. Yes, living in California, I do collect earthquake related exonumia and it would fit my fireman collection.

I did find the story and now the piece resides in my collection and I hope in my grandson's collection in the future.

The story?

Fireman's fob awarded to Matthew Brown for saving the life of a young girl and reuniting her with her father after her mother perished in the fire that destroyed San Francisco after the 1906 earthquake. The mother and child were visiting San Francisco and the mother died in a hotel that burned following the earthquake. Brown rescued the three year old girl and took her to his home in Oakland where he and his wife cared for her. The girl's father, distressed that he heard nothing from his wife, traveled from Phoenix to San Francisco in search of his family. So many people were displaced and living on the streets and in camps that the effort could have proved fruitless. Being just three years old, who knows what might have happened to an unnamed orphan in the chaos that followed. Brown, however, kept in touch with those helping people searching for their families and on April 28, 1906 was able to reunite the young girl with her father. Whether the fob was a gift from the father or an award from the department is unknown. The station for Truck Company 8 was destroyed in the fire that swept through the city and there are no posted records from the company for the earthquake.