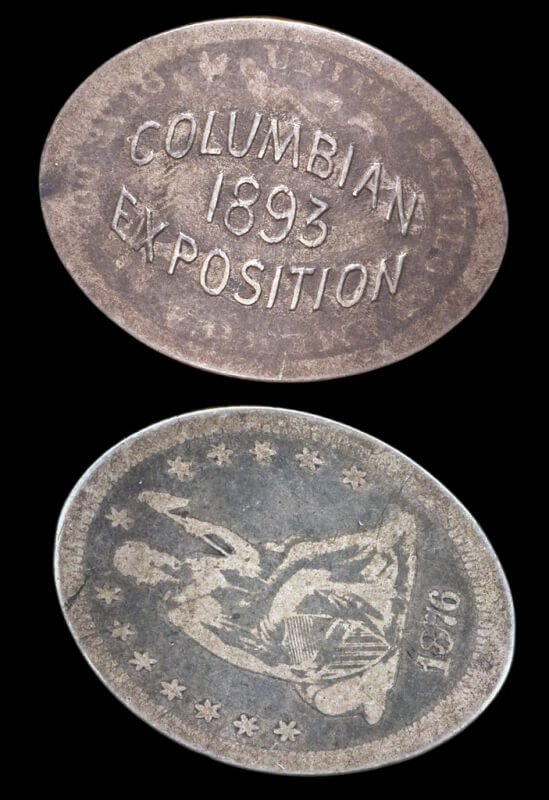 I have been building a U.S. type set of U.S. coins, but it is not your usual type set.

The 1893 World's Columbian Exposition in Chicago saw the introduction of a new novelty, devices to roll coins through a die which compressed and stretched the coin while leaving a new design commemorating the event. Elongated coins are common across the country with many businesses and destinations offering coin operated rollers to created your own souvenir, usually on a penny (yes, I know its a cent). I attached two images of one of my grandsons rolling a cent at the San Francisco zoo.
But, back to the type set. Visitors to the 1893 exposition rolled a wide variety coins foreign and domestic for souvenirs. I am slowly building a type set of U.S. coins rolled at the exposition. Indian head cents are the most common and the practice eventually evolved over time to where cents are the primary base coin for elongated souvenirs. Special sets using other denominations can be found, but they are not that common. In 1893, visitors rolled what they brung (so to speak).
I have included pictures of the four Liberty Seated pieces in my collection. It is the 1876 half dollar that was my delightful surprise. I try to save the pedigree of rare coins, medals, and tokens when I can. When my Ebay purchase of the rolled half dollar arrived, the packing invoice included a handwritten note from the seller. He wanted me to know that it came from his parents estate, Harry and JoAnne Peters of Fort Dodge, Iowa. Roger even included a wooden nickel from their coin shop in 1983/84. Harry was a past president of the Iowa Numismatic Association and his wife served as secretary for many years.
The 1876 elongated half dollar is rare and it now carries the pedigree of Harry and JoAnne Peters in my collection. Their son's handwritten note was a delightful surprise.