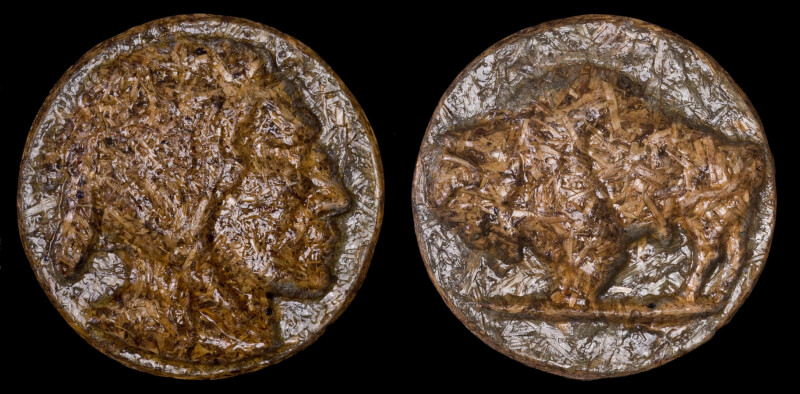 A most unusual acquisition
I am always on the look out for the unusual, mysteries to be solved, or something I can tell a story about. Now it can be said that I have literally bought a piece of crap, really a pressed facsimile of a buffalo nickel.
I suppose it should be properly described. It is 53.4 mm in diameter and weighs 11.93 grams. It has been shellaced (lacquered?), so it probably won't make it in a holder. I have not subjected it to xrf analysis, so I cannot be positive about the exact nature of the alloy, but it does appear to contain a lot of straw on close analysis.
The dealer I bought it from claims it is a "Trigger" Nickel. You know Trigger, the most famous of several palamino horses owned by Roy Rogers. Trigger used to stand, a beautiful example of taxidermy, in the former Roy Rogers and Dale Evans museum in Victorville, California. He was famous for his tricks, his ability to walk on his hind legs, signing his X when giving autographs, sitting in a chair, and being housebroken so he could visit children in the hospital or admirers in hotels and theaters.
People loved Trigger and wanted something to remember him by. The story goes that the stable manager at Roy Rogers Apple Valley Ranch came up with the idea to press Trigger's manure (road apples) into souvenir nickels. These were reportedly sold at the Los Angeles County Fair in the 1950s.
Happy Trails (and collecting) to You.