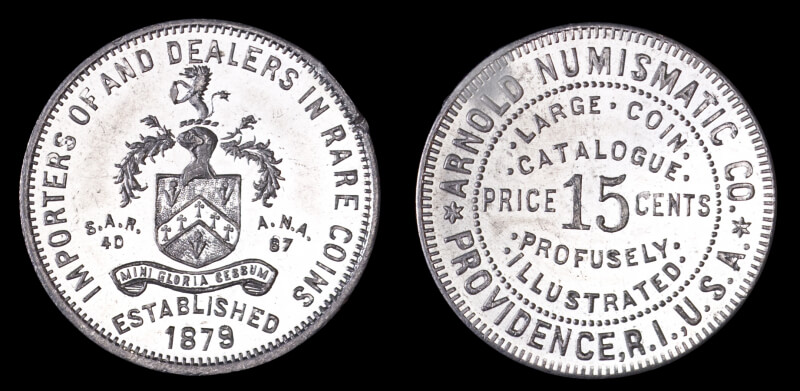 One attraction of exonumia (tokens, medals, things that are like money but different) is the wide variety of collecting themes available. I have many and varied interests and collecting themes that I wander among looking for items that catch my interest. When one dealer asked what I was interested in, I replied: "Anything I can tell a story about." Coin dealer store cards are one of my many interests.
I recently acquired five store cards from the early 1900s. The might appear to be but are actually not a complete set. But they do represent the range of material used to strike the two store cards for the Arnold Numismatic Co. I have paired two of the tokens with a 1905 article by A. Frey announcing the store card and a later 1912 ad from The Numismatist using the newly updated store card in an Arnold Numismatic Co. ad for their coin catalogue that they issued from time to time.

The lot contained brass (paired with the announcement) and copper examples of the earlier store card and silver (paired with the ad), aluminum, and red fibre examples of the later store card. The same obverse die was used for both issues. A new reverse die was used for the 15 cent later token.
George Arnold started his business in 1879 in Providence, Rhode Island and was otherwise busy in several other business ventures. As Frey notes in his 1905 article, the obverse of the token depicts the coat of arms of the Arnold Family. The small notions on either side document his membership in the Sons of the American Revolution (on the left) and his membership in the American Numismatic Association.
Now I am looking for an example of his publication to add to my collection.