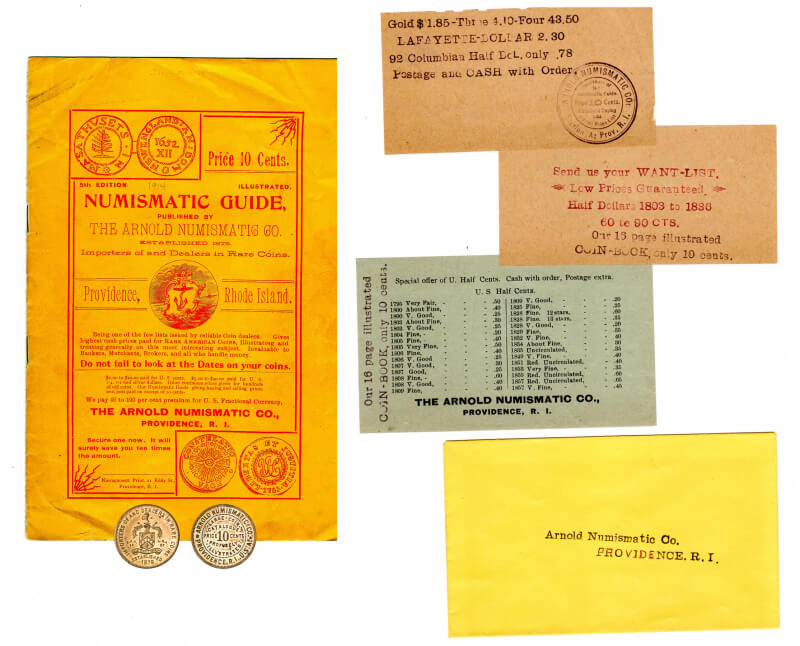 Arnold Numismatic Co. Ephemera
I posted a blog about store cards from the Arnold Numismatic Co. in January 2019. At that time I stated that I was looking for an example of the Arnold Numismatic catalogue to go with the tokens. I finally acquired a copy from Kolbe & Fanning's April auction. The Guide has the penciled date of 1914 on the cover, but if you look at my earlier blog, you will note that the advetisedprice was 15¢ in 1912. The various sales sheets tucked inside the guide indicate the sales price is 10¢. The cover indicates the catalog is the Fifth Edition. Their guide was first copyrighted in 1905, so I suspect this edition is from 1910.

Early catalogs such as these provide tantalizing glimpses inside the hobby. An ad from A. G. Heaton in the back of the Guide caught my eye. Heaton published his monograph promoting collecting coins by branch mint, i.e. collecting by mint marks, in 1893. I was also interested to note that you could buy a copy of the Arnold Family Tree since they included their family coat of arms on their tokens.
But back to mint mark collecting. The idea was still taking hold in 1910. In the Guide, mint marks are included in the definition of numismatics terms, but no by prices indicate any premium for rare mint marks. The Guide does note that 1878 silver dollars with 8 tail feathers do not warrant a premium. Heaton's ad caught my attention because I have an original 1893 copy bound in board covers. An ink notation on the inside cover notes the copy was purchased from the April 21, 1900 Lyman Low auction of the library of the Scott Stamp and Coin Co. Heaton was still selling his monograph in 1910 for the same one dollar issue price. My copy brought 70 cents in the 1900 sale. The monograph was issued with a paper cover, so I suspect the board covers were added by the Scott company. I do not know who bought the monograph in 1900, but at some point it was donated to the ANA Library and sold at the 1970 library surplus sale during the Second Annual ANA Summer Seminar. As an aspiring young numismatist at the time, I snatched up item for a whopping $1 to begin building my own library.

And so began my interest in building my own library and ephemera collection.