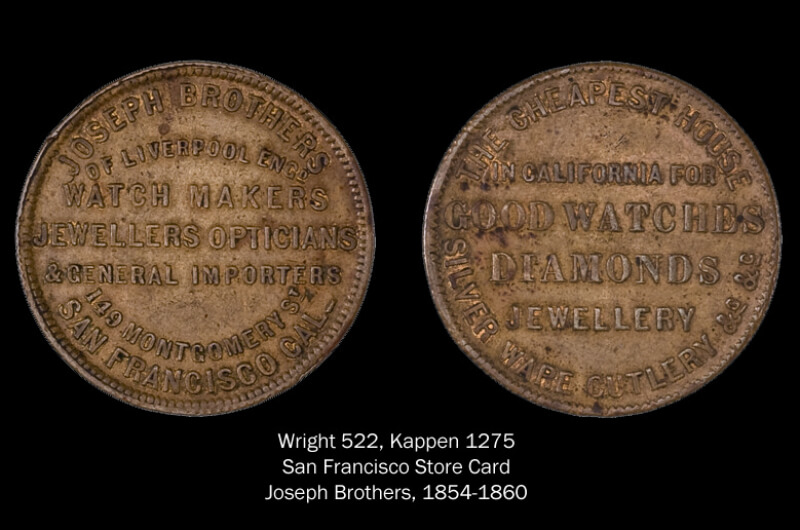 A new addition to my ephemera collection has an interesting back story. Although it is undated, I believe the B. Max Mehl advertising flier dates to the end of 1909, likely around the end of the 1909 Alaska-Yukon-Pacific Exposition. "Alaska Gold," "Just Issued" refers to Jules Charbneau's AYPE three gold token set released in early 1909. You can read more about the tokens in the January 2013 issue of The Numismatist in an article by Jeff Shevlin and myself, "Jules Charbneau's 1909 AYPE Gold Dollars."
"California Gold" "Of the Finest Workmanship" refers to California gold tokens issued by Nathan Joseph, a San Francisco m,erchant ca. 1910. Nathan Joseph's circular is reproduced at https://www.flickr.com/photos/coinbooks/32197125735/in/photostream/. Nathan Joseph's older brothers were the well-known Joseph Brothers of Gold Rush era San Francisco. You can read more about Nathan Joseph tokens in an April 2008 TAMS Journal article by Mike Locke, "The Post-1906 Tokens of Nathan Joseph and His Imitators."
What makes the circular interesting is the general reaction to the various gold pieces Mehl is offering for sale. Farran Zerbe, a friend of Charbneau's and the likely inspiration behind Charbneau's gold set, criticized Charbneau for referring to them as coins in an article in The Numismatist in 1909. Henry Drowne critiques the Nathan Joseph tokens in the April 1910 issue of the American Journal of Numismatics as being of no interest to numismatists as they are spurious and ill-advised attempts to induce others to fool the public. He asked, "Can reputable dealers wonder that they are discredited when such palpable tricks as this can be perpetrated, without interference?"
One wonders if Drowne was thinking of Mehl as being a witting or unwitting party to deceiving the collecting and non-collecting public. Drowne expected that honorable dealers would caution their clients against purchasing such material. Zerbe accepted the Charbneau tokens as legitimate souvenirs as long as they were not sold as coins, but criticized these later gold charms.
Charbneau's gold pieces are accepted today as legitimate collectibles from the AYPE. Nathan Joseph's tokens have a more limited collector base. B. Max Mehl is respected today as a dealer who did much to expand the popularity of our hobby. And the B. Max Mehl sales sheet is an interesting artifact of the state of numismatics in 1910.
A few related numismatic items are pictured in addition to the sales circular.