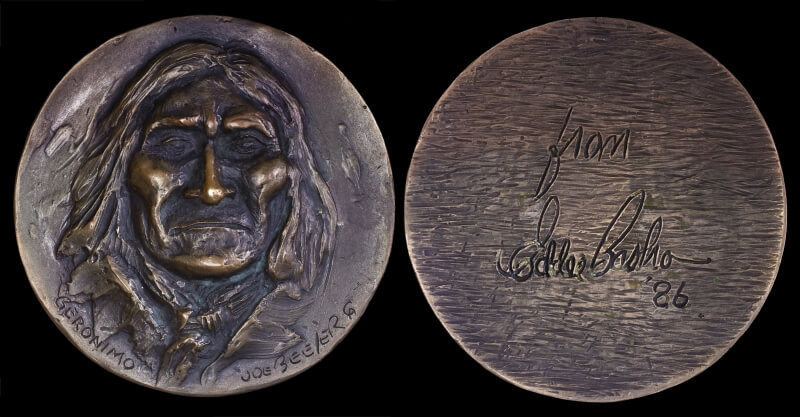 Joe Beeler / Eddie Basha Native American medals
A few years back, my wife and I were visiting her distant cousin in the Phoenix area. We had become good friends and enjoyed our visits. They suggested a visit to the Eddie Basha Collection at the headquaters of Basha's Markets in Chandler. Eddie Bauer had assembled an impressive collection of Native American and Cowboy art and believe that art was meant to be shared. In keeping with his beliefs, the family has much of his collection on display for public visits. I was impressed with the depth and quality of the collection and many of the artists had created works for Eddie as a friend.
I was intrigued by a sampling of bronze medals depicting the portraits of important Native Americans created by artist Joe Beeler. Beeler had collaborated with Eddie Basha to create the medals for Eddie to present to friends as Christmas gifts. The medals were produced between 1983 and Beeler's death in 2006. Various accounts indicate about 30 different medals were produced in bronze and pewter, the exact number of each is unknown. One estimate is that about 1000 copies were produced, maybe 30 to 40 of each. They vary in size, but are around 3 to 3.5 inches in diameter. I have thought about the medals for the past years and hoped to one day acquire one or more for my collection.
I recently had the opportunity to acquire three of the medals pictured here.
The first is Apache leader and medicine man Geronimo. He became an American celebrity in his later life.
The second is Chief Joseph of the Nez Perce. He led his people in a failed attempt to reach Canada after being displaced by the U.S. Army in Oregon. He became a famous American is his efforts to defend the rights of his people.
The third medal features Red Cloud, chief of the Oglala Lakota a tribe of the greater Sioux nation. He became famous for his war against the U.S. Army in defending his people's land. It has been said that before his death he stated: "They made us many promises, more than I can remember. But they kept but one -- They promised to take our land ... and they took it."
All worthy of being remembered for defending their way of life, land, and people.