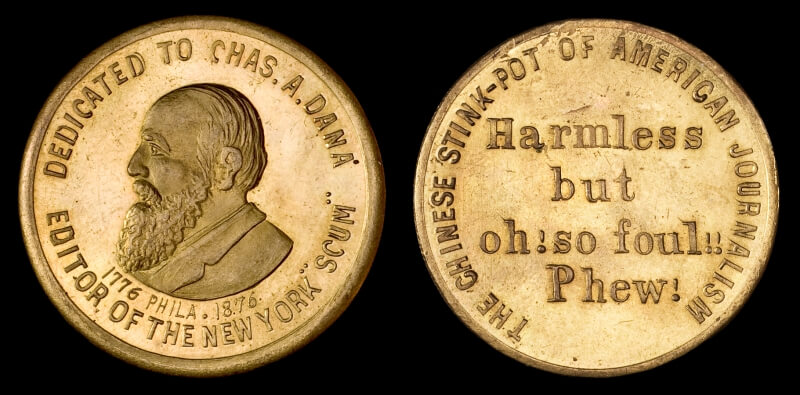 Nothing new in presidential politics.
I collect satirical political medals. Since I am a Democrat, most of the satirical pieces I collect poke fun at Democrats. That makes them more interesting to me.

On Inauguration Day, I attended the San Jose Coin Show and bought a satirical piece. I didn't know what it satirized, who made it, or anything about it. But, I thought it had to have a good story. Little did I suspect its ties to Trump's inauguration transpiring on the other side of the country. Serendipity Strikes!

After finding several possible stories that might explain the medal, I did find an old auction reference (1878) to the medal. That meant the 1776 PHILA. 1876 probably confirmed it was struck in 1876. That led me to Ron Abler's Cabinet of 1876 Centennial Medals. There I found the medal attributing it to a commission by Issac F. Woods for a medal struck by George F. Lovett. But what did it have to do with the Centennial Exposition? Nothing in my opinion.

Please note that the story that follows is more complex and convoluted, but you have to go to the history books to get the full story. It is much, too much for a simple blog.

The presidential election of 1876 pitted Democrat Samuel Tilden against Republican Rutherford Hayes. Tilden won the popular vote (50.9%) and 184 electoral votes to 165 for Hayes. Three Southern states; Florida, Louisiana, and South Carolina; had their 19 electoral votes in dispute as both parties declared victory and one elector in Oregon was in question as to whether he was a legal elector. To make a long story short, a political commission (8 Republicans and 7 Democrats voting along party lines) agreed to award the 20 electoral votes to Hayes in exchange for his promise to withdraw federal troops from the Southern states and bring an end to Reconstruction.

Charles Dana, a Democrat, owned the New York Sun. His paper often defied conventional norms and published news that other papers would not publish (and that is a longer story in itself). The New York Sun condemned the decision calling Hayes an illegitimate president. Others labelled Hayes "Rutherfraud," "His Fraudulency," and "His Accidency." Tilden and the sitting Republican President Grant accepted the results, but Dana held his own pulpit via the Sun.

Issac Woods supported Hayes and commissioned this medal and another satirizing Tilden and had them struck by George Lovett (who had created Tilden political campaign tokens). Thus, Dana became the editor of the New York "Smut." I suspect Smut also referred back to Dana publishing the details of a lawsuit charging the popular preacher Henry Beecher with adultery when other papers refused to publish the details or even that he was charged with adultery because it was unseemly to write about such things.

And the reverse? The Chinese stink-pot of American journalism? Chinese stink-pots were porcelain sulfur pots used in battle to drive the enemy from the field with its foul smell. Charles Dana was an avid art collector specializing in Chinese porcelain.

And the 1776 Phila. 1876? I suspect that had more to do with the Republican argument that the Constitution says the president is selected by the Electoral College and not a popular vote of the American people. Nevertheless, the propriety and legitimacy of the elections and process following the election remained a point of contention in American politics. On the anniversary of the Constitution, the candidate winning a majority of the votes did not win the election. And, it was argued that was the intent and beauty of the Constitution.

I did not know the story of my new medal when I purchased it on Inauguration Day, but it is now even more special as an addition to my collection. There is little new in American politics.