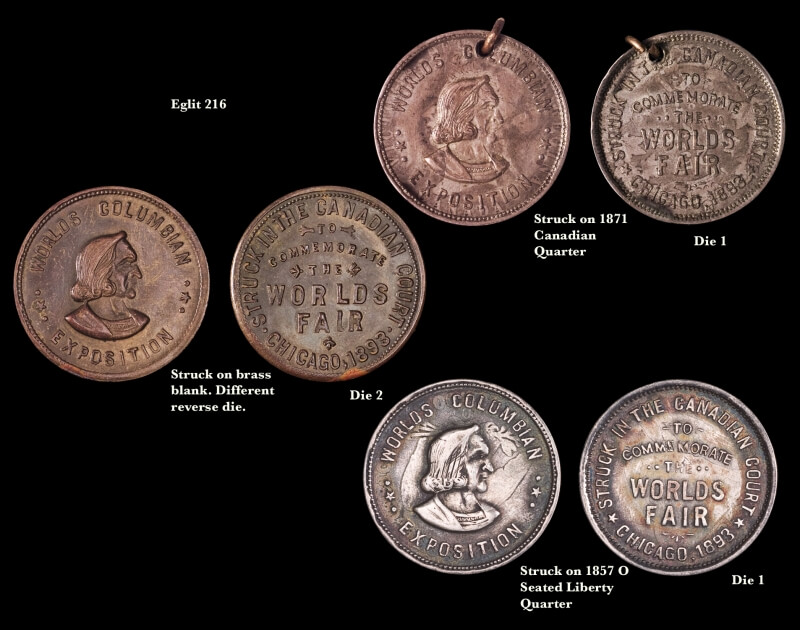 Pay attention to your medals
How many times do you handle a medal or token and not really see it?

I have three examples of a Columbian Exposition medal (24.2mm) struck in the Canada Court at the exposition. Eglit assigned the catalog number 216 to the medal. Rulau assigned X36 to the medal struck in copper, brass, or aluminum and X36A to the medals struck over a Liberty Seated Quarter, Barber Quarter, or a Canadian Quarter. The images pictured in both catalogs show what I call here Die 2. I have found only one auction catalog (in a review on the Newman Numismatic Portal) that mentioned a Canada Court medal struck over a Barber Quarter with a different reverse die. Unfortunately, Eglit 216 was low enough value that it is rarely illustrated in catalogs.
While I was assembling a composite image of the three pieces in my collection, I noticed the two different reverse designs. I labeled the die on my two struck over medals Die 1 and the brass medal Die 2. At first I thought the brass medals might have been struck with a different die than the strike overs, but the Rulau catalog clearly shows Die 2 on a Seated Liberty Quarter. Eglit also shows my Die 2 on a Seated Liberty Quarter. I don't know which came first, so I will stick with my Die 1 and Die 2.
While researching auction records, I discovered the obverse of the Canada Court medal was muled with the obverse of a medal struck in the New South Wales Court. The two medals are the same size, so muling them would have been easy. Was it done at the Columbian Exposition or later? I'm not sure how one would answer that question without a direct reference from the exposition period, but I have now added a new piece to my want list. As for Rulau's copper and brass varieties, I am uncertain as color is the only general way to distinguish between the two without a chemical analysis. Aluminum on the other hand is now on my want list, but I do not know if they really exist. I found one reference to a white metal example. That could be aluminum or maybe a a toned silver quarter over strike mistaken for white metal.
The lesson? Pay attention when examining the tokens and medals in your collection. There is often something new to be discovered.