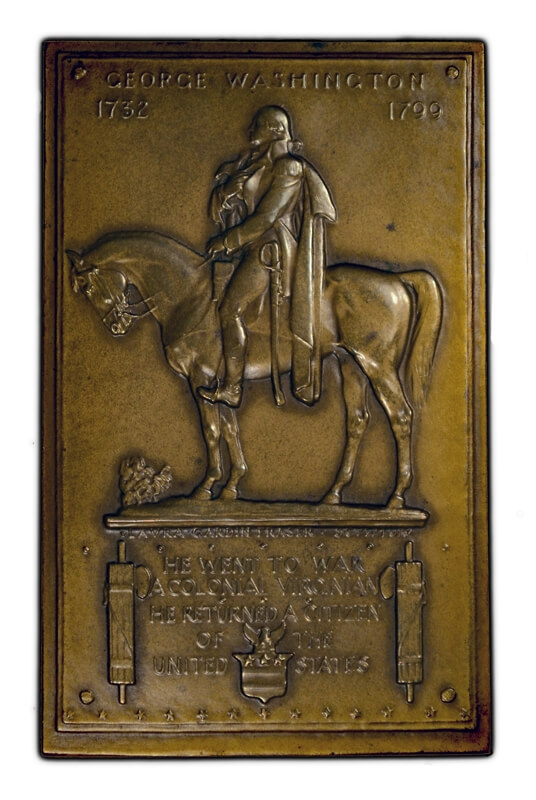 For collectors, sometimes collectibles are added in bunches. Other times the wait for new pieces is unbearable. Well over the last couple of months, I have added three new pieces to my Laura Gardin Fraser collection. To top it off all my new acquisitions are fairly scarce. Of interest to me is that all three were referred to me by another collector who has been watching E-Bay with me. I just love how unselfish and helpful so many of the people in this hobby are towards me. It doesn't get much better than this, good people and new acquisitions. The following is a brief summary of my three new pieces.
The first piece is a Girl Scout pin first designed by Laura Gardin Fraser in 1919. This pin comes in three sizes 29 mm, 22 mm, and 13 mm. They were either gold filled or solid 10K gold. My pin is either a
gold plated or gold filled
29 mm sized pin and possibly a trial pice based on the open pin clasp. The gold filled pins often wore down to their base metal and eventually the girl scouts went with a solid 10K gold pin. These pins were awarded up until 1939.
The next piece acquired just in time for Presidents Day is a bronze 57 X 92 mm 1932 uniface Washington equestrian plaquette made by the Medallic Art Company for the Washington bicentennial birthday celebration. It is said that the original mintage of this piece is only 30. I need to corroborate this though because it sure didn't cost me what you might think for a piece with a total mintage of 30.
The final piece is a 1923 Horse Association of America Polo Pony Medal. According to a book entitled, "Polo in America" Laura Gardin Fraser borrowed a couple of polo mallets, climbed on her horse near the Fraser's studio in Westport, Ct., and hit the ball around to study the subject of her medal.