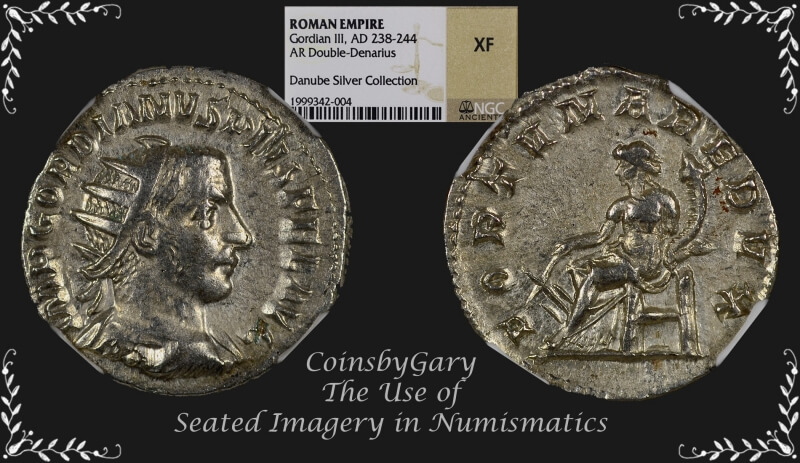 With Veterans Day coming soon and the 100th anniversary of the end of World War 1 on November 11, 1918 coming next year, I thought to focus on some of the events that led to to World War 1 and in particular the Emperor of the Austro-Hungarian empire. Today's Veterans Day holiday has it's roots in Armistice Day on November 11, 1918.

In 1879, the Austro-Hungarian Empire issued a 2 gulden commemorative coin to celebrate the 25th wedding anniversary of Franz Joseph I of Austria to Elizabeth of Bavaria. Equivalent to 2 Austrian Florins or 2 Hungarian Forints, the coin is 36mm in diameter and weighs 24.69 grams. It has a silver fineness of .900 and an ASW of .7144 oz. Minted in Vienna, Austria, this coin has a mintage of 275,000.

The central device on the obverse of this coin are the conjoined heads of Franz Joseph I wearing a laureate crown signifying honor and Elizabeth wearing a diadem signifying royal power or dignity. The obverse legend translated into English is "Franz-Jozef by the grace of God emperor of Austria and Apostolic king of Hungary, Elisabeth empress and queen." Inscribed on this coins edge is its denomination at 2 Gulden/2 Forint.

The central device on the reverse of this coin is Fortuna, the Roman goddess of chance or lot. Fortuna appears seated on an ottoman representing the oracular seat from where she steers the destinies of men as signified by the rudder in her right hand. Cradled in Fortuna's left arm is a cornucopia representing abundance. Fortuna, as portrayed on this coin is regarded as the bearer of good fortune, fertility and abundance. The reverse legend translated from Latin into English is "Fifth period of five years of the marriage ceremony 24th of April 1879."

Unfortunately, for Franz Joseph and Elisabeth history records quite a different destiny for this couple than what the coin suggests. One could even make the argument that due to their vastly differing personalities, they should not have married in the first place. Nevertheless, they were married anyway on April 24, 1854.

Now Franz Joseph had a lackluster personality and was devoted to the formality and tradition of the Hapsburg royal court. Conversely, Elizabeth was more of a free spirit, and abhorred the obligations that came along with being an empress. Consequently, even though Franz Joseph loved his wife dearly, Elizabeth did not respond with the same affection.

Elizabeth nicknamed "Sisi" by her family and friends felt emotionally constricted by the formality of the Hapsburg court. Consequently, I believe that the stressful expectations placed on her led to her obsession with beauty and various other health issues including anorexia.

In Elizabeth's defense, Franz Joseph's mother princess Sophie was very domineering towards her son and against their marriage. Additionally, Sophie had not allowed Elizabeth to raise her own children and separated them from her at birth. Though hated by her subjects in Austria, Elizabeth was loved by the people of Hungary. Consequently, I believe that Elizabeth's love for Hungary and her influence on her husband were contributing factors in the Austro-Hungarian compromise of 1869. This agreement gave Hungary a certain degree of autonomy and made Elizabeth and her husband the king and queen of Hungary.

Franz Joseph over the tenure of his reign presided over the gradual eroding of the Austrian Empire by other peoples from within the empire seeking their own autonomy and independence. Furthermore, Franz Joseph's mother, princess Sophie, exercised undue influence over Franz Joseph until her death in 1872. The effect of that influence placed a wedge in the relationship between Franz Joseph and Elizabeth. Later, somewhat estranged from each other, circumstantial evidence led to persisting rumors that they were both involved in extra-marital affairs.

Tragedy was an ever-present reality in the lives of Franz Joseph and Elizabeth. This started with the death of their first-born child Sophie at the age of two in 1857. The murder-suicide of Franz Joseph and Elizabeth's only son Crown Prince Rudolf and his lover followed in 1889. The Mayerling incident named after the hunting lodge where the murder-suicide occurred was personally devastating to both Franz Joseph and Elizabeth. This incident also destabilized the empire as the lineage to the throne passed to the son of Franz Joseph's brother, archduke Franz Ferdinand.

In 1853 Franz Joseph survived an assassination attempt on his life. However, Elizabeth was not quite as fortunate as an Italian anarchist assassinated her in Geneva, Switzerland in 1898. In 1914, Archduke Franz Ferdinand was assassinated in Sarajevo and shortly thereafter Austria-Hungary declared war on Serbia thus igniting a chain of events that erupted into World War 1.

In summary, I wish to make two closing points. First is that I find it fascinating the degree to which this dysfunctional family directly affected the history of the world, including the number of people who have died in World War 1. My next point relates to Fortuna and one of two possibilities, she either is capricious in the way she directs destinies OR she is no god at all. I choose to believe the latter.