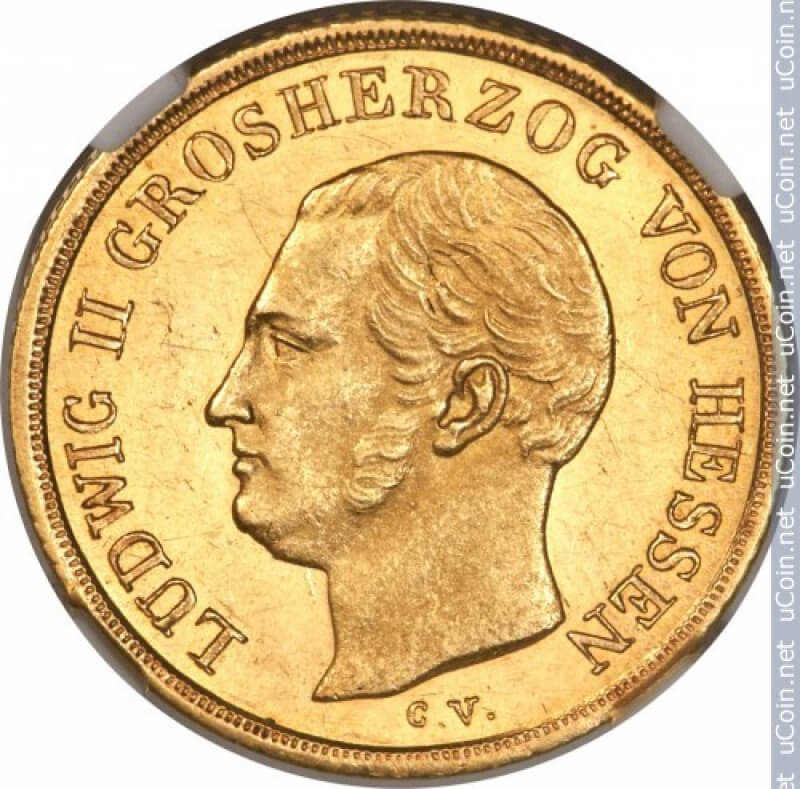 Coins of the German States: Hesse-Nassau and Hesse-Darmstadt
   Hello and welcome to another Coins of the German States blog! This time, there will be two states featured, simply because they are united today and I felt that they were very similar to each other. Hesse-Nassau was actually a Prussian state for some time, so a lot of the coins there are Prussian issued, which I will get to later (also I have covered Prussia on an earlier blog). Also, the picture is not a coin from my collection.

The Grand Duchy of Hesse, which I will call Hesse-Darmstadt in this blog to avoid confusion, had two different monetary systems. The first was the Gulden, which was used from 1806 to 1872. It was not a perfect decimal coin system and looked something like this: 1 Gulden = 0.75 Thaler = 60 Kreuzer = 240 Pfennig = 480 Heller. Its second monetary system was the regular German Mark, which was a decimal coin system that most German states adopted during the 1870s. 

One coin that I found interesting was the 5 Gulden coin of Ludwig II from Hesse-Darmstadt (see above for picture). It was minted in 1832. 5 Gulden was one of the highest denominations minted in the state and no wonder: it was 3.5 grams of .904 gold, worth slightly less than $200 today! The obverse has a picture of Duke Ludwig on it, surrounded with the words Ludwig II Grosherzog von Hessen. This literally translates to "Ludwig II, the Grand Duke of Hesse". On the reverse (not pictured), there is the date, the words "five Gulden", and a coat of arms of Hesse-Darmstadt with a draped background.

Hesse-Darmstadt's mint was located in the city of Darmstadt. It was in charge of making the coins for the duchy for many years until the German Empire started using it to mint its lower denomination gold coins. Its mintmark was H and it closed in the late 1800s. The Prussians minted the coins for Hesse-Nassau. Many of these coins were issued by the Municipality of Schlierbach in Hesse-Nassau, but when the German Empire came to power, the coins came from different places, like Munich or Berlin.

Today, the German state of Hesse-Darmstadt and the Prussian province of Hesse-Nassau are united. The State of Hesse, founded after WWII, does not have a functioning mint rig ht now, but there still is something worth mentioning. The largest city in the province, Frankfurt am Main, is home to the European Central Bank, one of the world's most important banks. It is where the Euro is "managed". It is so prominent in Frankfurt that the city is sometimes called "The City of the Euro".
Hope you enjoyed it, see you next time!