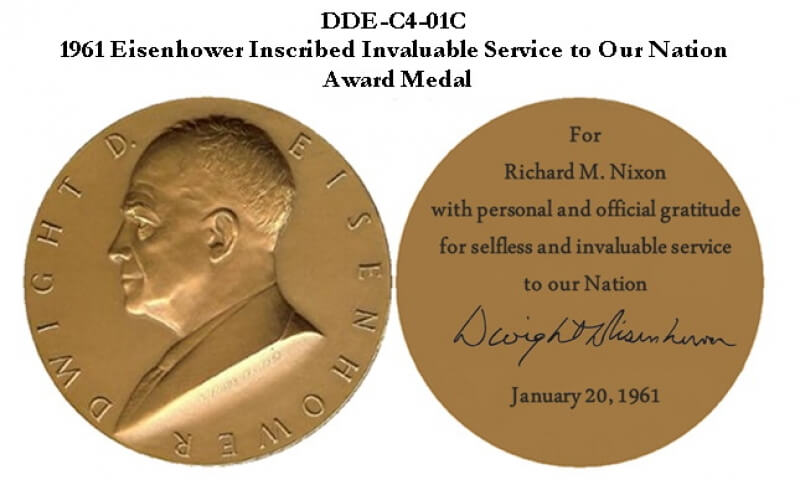 Found Presidential Medal Reinforces My Numismatic Research
During the writing of my book, Authoritative Numismatic Reference: Presidential Medal of AppreciationTM Award Medals 1958 - 1963, ISBN: 1511786744, I contacted  the Richard M. Nixon Presidential Library & Museum for images of a bronze medal that was awarded from President Eisenhower to then Vice-President Nixon. I felt that is was appropriate to email a working draft Chapter 7 to assist the library in locating this medal. It provided the physical traits and historical information based on previously sequestered White House records.  I also created a rendition of the medal based on these White House Records.
 After a few days, the Richard M. Nixon Presidential Library & Museum notified me that they found the medal as NARA 1979.366 in their database listing. Several images were provided to me. In addition the library indicated they were adding my draft Chapter 7 as part of the Presidential Library records as it provided previously unknown information about the medal. I responded with gratitude and delight with the images. I also replied that I would send a finished book (when published) to replace the draft working Chapter 7. 
The images provided in this ANA Blog is the first public showing of the medal (images are in my book). 
This inscribed "Nixon" medal is cataloged as a Eisenhower Class 4 medal with the identifier DDE-C4-01C. This is a uniface version of the 76.2 mm U.S.. Mint bronze medal that has the same obverse design as the:  
a. 1953 dated U.S. Mint Presidential Medal Series medals (Eisenhower 1st inauguration, United States Mint stock #133). 
b.  1957 dated U.S. Mint Presidential Medal Series medals (Eisenhower 2nd inauguration, United States Mint stock #134). 
It should be noted that the DDE Class 4 medals, 1953 dated medals, and 1954 dated medals each have the 1954 dated Frank Gasparro hallmark on the obverse.   (The U.S. Mint stock medal #133 in 33.4 mm bronze. Recently, the U.S. Mint struck a silver 40.6  mm version of the stock #133 design in its 2015 Eisenhower Chronicles set).
When you compare the reverse rendition and the actual medal they are very close (except text spacing).
There are a total of 125 Eisenhower Class 4 award medals with reverse 4 variations. 106 medals are inscribed with a special message from President Eisenhower. The medals are also inscribed with the recipients name. The "Nixon" medal is the first to be located. 
In closing. my book was donated to three different Presidential Libraries (Eisenhower, Kennedy, and Nixon) as they provided assistance in my numismatic research.