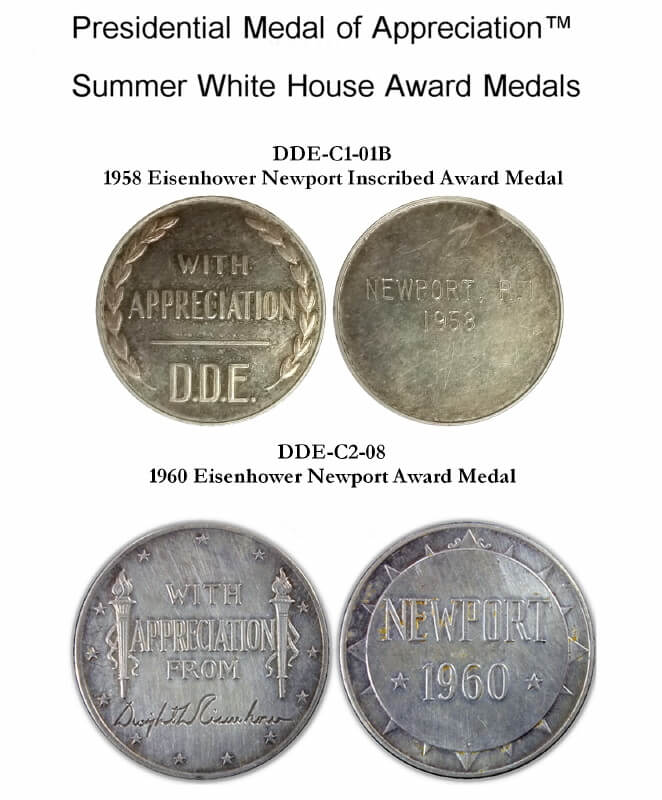 First Look Ever - The Eisenhower Summer White House Medals
This is the first ever online look at President Eisenhower's Summer White House medals!á
No other President of the United States has a Bureau of the Mint (now called the United States Mint) struck Summer White House medal. Eisenhower has 2!
In the Summer of 1958 and 1960, President Eisenhower spent his Summer in Newport, Rhode Island. áThese medals were awarded by Ike at his Summer White House residence.
In case you are wondering, the inscribed medal is known as a "custom" medal. The White House Office had David Mann Inc. (business is still active and located in the Pentagon) perform the engraving.á
This newly identified medal series has 16 "core" medal types (delivered as struck to the White House). 2 of these core medals types were uniface. The White House created 6 "custom" medals from these 2 uniface medals, resulting in 22 medals in this newly identified ámedal series.
Class 1 Medal
DDE-C1-01B is 30.6 mm (same diameter as a half-dollar, but thicker: 2.6875 mm). The extra thickness was to remove traces of die clashing on the uniface side. Edge is smooth.
Class 2 Medal
DDE-C2-08 is 38.1 mm (same diameter as a Morgan silver dollar). Edge is smooth.
Here is a link for additional information about the now called "Eisenhower House" (
commandant's residence at Fort Adams, Rhode Island).
http://www.eisenhowerhouse.com/history/