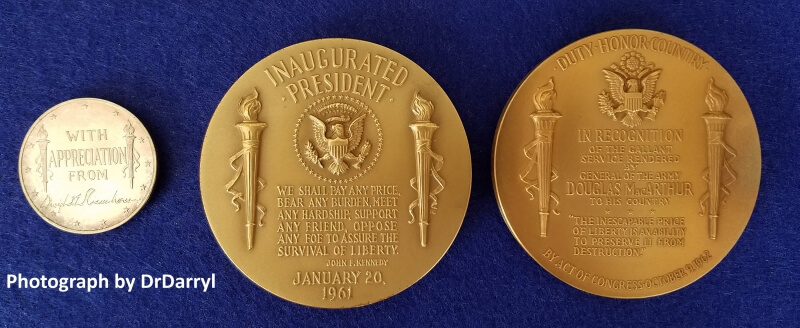 Revisited: Frank Gasparro's Dual Torch Design
In one of my previous blog entries I shared a composite image of a numismatic research find from my original research on the POTUS sGm series.

The attached image could be the first photo to actually have the three dual torch design of Frank Gasparro side-by-side with actual specimens . The Kennedy and MacArthur issues are the full size "list medals" and not the smaller re-issued medals. All struck by the U.S. Mint.

From Left to right:
1960 President Dwight D. Eisenhower appreciation medal
1961 President John F. Kennedy inauguration medal
1962 General Douglas MacArthur congressional gold medal (struck in bronze)

Mr. Gasparro used his dual torch design in three consecutive years on three different medal types (appreciation, inauguration , and congressional).